The most famous Dolores Huerta quotes encourage people to reflect on their life choices as individuals and as a unit. When we talk about labor leaders and civil rights activists, her name is always prominent.
She was born in 1930 to Alicia and Juan Fernandez. Her mother, a community activist, influenced Huerta's views and thoughts about society. The discrimination she experienced also helped shape the woman we all admire today!
Are you interested in reading Huerta's most thought-provoking words? Check out her quotes below!
41 Inspirational Dolores Huerta Quotes
1. "Every moment is an organizing opportunity, every person a potential activist, every minute a chance to change the world." — Dolores Huerta
2. "We as women should shine a light on our accomplishments and not feel egotistical when we do. It's a way to let the world know that we as women can accomplish great things!" — Dolores Huerta
3. "Every single day we sit down to eat breakfast, lunch, and dinner, and at our table, we have food that was planted, picked, or harvested by a farmworker. Why is it that the people who do the most sacred work in our nation are the most oppressed, the most exploited?" — Dolores Huerta
4. "We just have to convince other people that they have power. This is what they can do by participating to make a change, not only in their community but many times changing in their own lives. Once they participate, they get their sense of power." — Dolores Huerta
5. "Every minute is a chance to change the world." — Dolores Huerta
6. "Honor the hands that harvest your crops." — Dolores Huerta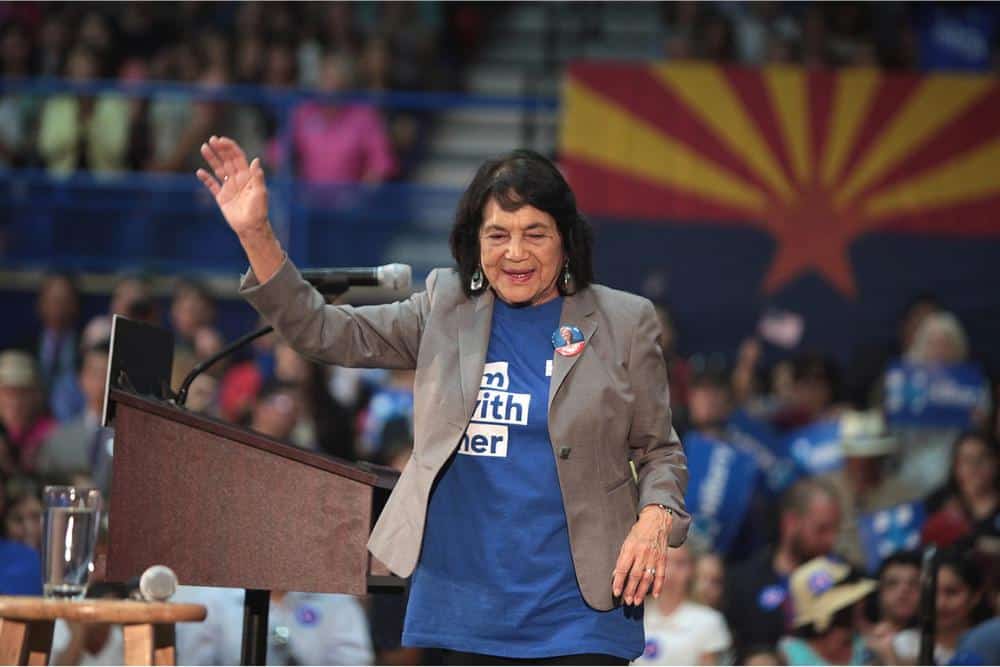 7. "We can't let people drive wedges between us… because there's only one human race." — Dolores Huerta
8. "We must use our lives to make the world a better place to live, not just to acquire things. That is what we are put on earth for." — Dolores Huerta
9. "I quit because I can't stand seeing kids come to class hungry and needing shoes. I thought I could do more by organizing farm workers than by trying to teach their hungry children." — Dolores Huerta
10. "People would say, 'Who is a leader?' A leader is a person that does the work. It's very simple. It's a personal choice for people who choose to put in their time and their commitment to do the work. It's a personal choice." — Dolores Huerta
11. "The thing about nonviolence is that it spreads. When you get people to participate in nonviolent action – whether it's a fast, a march, a boycott, or a picket line – people hear you, people see you, people are learning from that action." — Dolores Huerta
12. "A woman's place in history has never been given the attention that it needs to be given, and that's why we have a lot of misogyny in our society today." — Dolores Huerta
13. "When you choose to give up your time and resources to participate in community work, that's what makes a leader." — Dolores Huerta
14. "When a group of people get together, it's collective power. You know that you're doing it for the good." — Dolores Huerta
15. "Leadership is a choice one makes." — Dolores Huerta
16. "That's the history of the world. His story is told, hers isn't." — Dolores Huerta
17. "We criticize and separate ourselves from the process. We've got to jump right in there with both feet." — Dolores Huerta
18. "We have to convince people that they have the power to elect people. The people they are electing are the ones making the decisions about how our tax dollars are going to be spent. Is it going to be for more jails or for more schools? For more house services? It's very important that people understand that, do their research, and find out who to vote for." — Dolores Huerta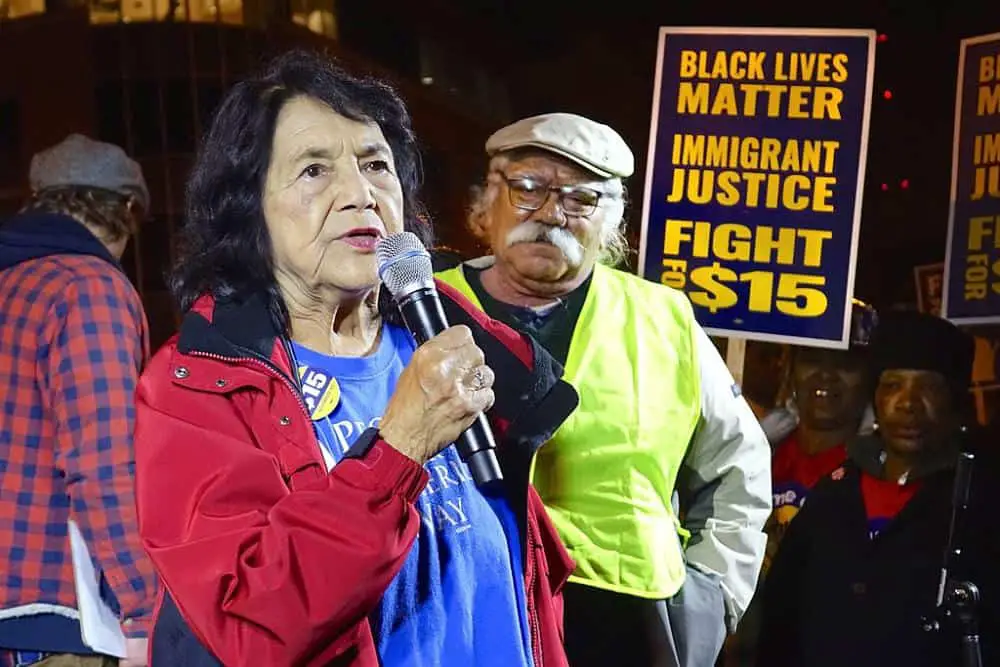 19. "Don't be a marshmallow. Walk the street with us into history. Get off the sidewalk. Stop being vegetables. Work for justice. Viva the boycott!" — Dolores Huerta
20. "Giving kids clothes and food is one thing, but it's much more important to teach them that other people besides themselves are important and that the best thing they can do with their lives is to use them in the service of other people." — Dolores Huerta
21. "We have to get back down to basics. We have to start organizing at the neighborhood level to get people educated to vote." — Dolores Huerta
22. "If you haven't forgiven yourself for something, how can you forgive others?" — Dolores Huerta
23. "The majority of Latinos in this country are 28 years old or younger. All of those people out there attacking the Latino community, when you see a Latino going down the street with a baby carriage and a couple of children walking beside them, they should say, 'Hey, there goes my social security and my Medicare.' Those are the people that are going to contribute to keep our social security system funded and our medical system funded." — Dolores Huerta
24. "Once you see the outcomes and the results, and you see how many people are helped and benefitting, you want to keep on doing it because it's so simple." — Dolores Huerta
25. "Among our people, there's not any question about women being strong — even stronger than men — they work in the fields right along with the men. When your survival is at stake, you don't have these questions about yourself like middle—class women do." — Dolores Huerta
26. "Of course, we have leaders in the African American community as well that we've all worked with. One of the great rewards of being an activist is that you get to meet all these wonderful people. And there are many unsung heroes. There are so many out there that are good people that are working hard." — Dolores Huerta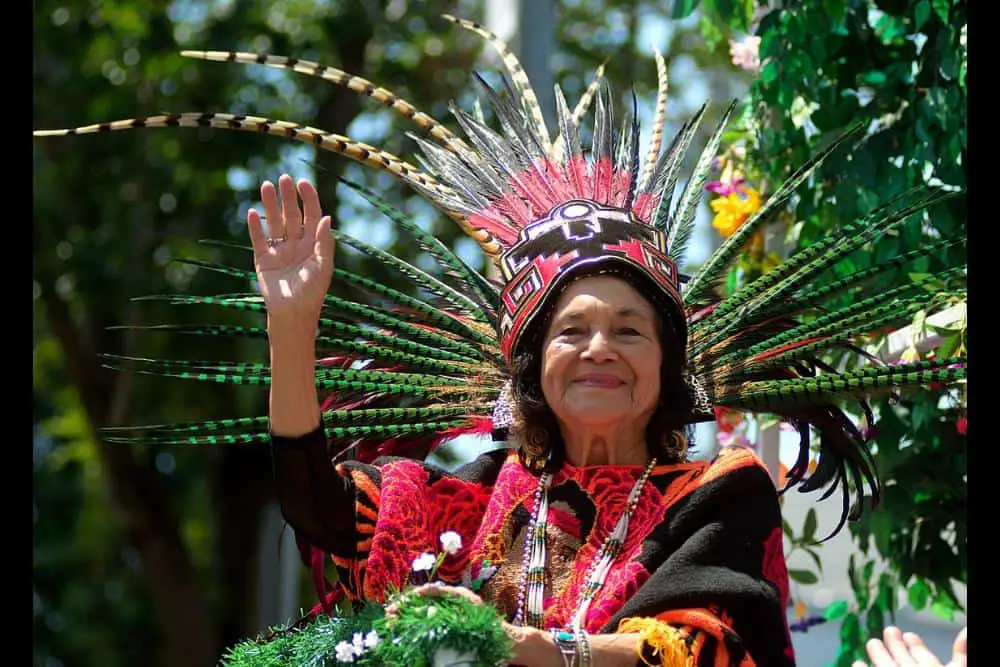 27. "Walk the street with us into history. Get off the sidewalk." — Dolores Huerta
28. "If we can just convince other people to get involved, this could make some major changes in our society. It's very exhilarating." — Dolores Huerta
29. "Sometimes, we have to promote ourselves. Just go out and be very active about trying to find an opportunity." — Dolores Huerta
30. "In fact, the corporations are driving out the competition, and it is not getting better, especially when they are not paying income taxes. Thank goodness for the social media out there, because we sure can't count on the corporate media to get the word out." — Dolores Huerta
31. "We know we only have about half of our population that's voting." — Dolores Huerta
32. "My mother was a dominant force in our family. And that was great for me as a young woman, because I never saw that women had to be dominated by men." — Dolores Huerta
33. "It's important to realize that we all need to work together. With Weaving Movements, we are all interdependent, and we all have to work together. If we could just realize that and understand that, we'll keep our country strong." — Dolores Huerta
34. "When you have a conflict, that means that there are truths that have to be addressed on each side of the conflict. And when you have a conflict, then it's an educational process to try to resolve the conflict. And to resolve that, you have to get people on both sides of the conflict involved so that they can dialogue." — Dolores Huerta
35. "Organized labor is the only way to have a fair distribution of wealth…" — Dolores Huerta
36. "I hope people become inspired to become active in their community. That's the important thing." — Dolores Huerta
37. "I say that now we see a lot of hateful rhetoric against Mexicans and the Latino community, but we have a very powerful weapon. And that is our vote. This is the way we can get even with all of the politicians who are insulting us and saying terrible things about our community – by voting them out. And get the good ones. Vote them in." — Dolores Huerta
38. "Once I learned about grassroots organizing, I got so enamored with it because I thought, 'Wow this is the way you do it!'" — Dolores Huerta
39. "Especially as a teenager, I was always being racially profiled by the police. You just see all this injustice, and you want to do something about it, but you don't know how." — Dolores Huerta
40. "Going door to door and talking to people, convincing them to vote – this is what I call Organizing 101." — Dolores Huerta
41. "We need to keep ringing the bell, wake people up to get our democracy together. Farmworkers are like a symbol, and it is good that people are paying attention." — Dolores Huerta
TUNE IN: Dolores Huerta in Her Own Words featuring the original cast of Zoot Suit
Join Farmworker Justice for an exciting special event honoring civil rights and farmworker champion Dolores Huerta at 91-years-old!
The Farmworker Justice Advisory Council and Volunteer Engagement Corps is proud to present "Dolores Huerta In Her Own Words," a virtual reading of Dolores Huerta's quotes curated by Huerta, herself, and her friend, David Damian Figueroa, FJ's Director of Development.
Summary
Dolores Huerta quotes have been inspiring people for decades! We hope you got to learn about a different perspective on democracy, human rights, and leadership from her words.
Our favorite quotes from this list are about her passion for inspiring people to make a difference in the world. Not many people care about others, but Dolores Huerta teaches us to be compassionate and strive to be better!
Related Articles:
Motivational Quotes by Tony Robbins
Quotes | Robert T. Kiyosaki on Financial Success
45 Powerful Quotes by John Cena
Featured and Body Image Credits: Gage Skidmore, Susan Ruggles, Tom Hilton, via Wikimedia Commons
I'm Alice Judy and AnQuotes is a fun hobby for me. We know that everyone loves a great quote and our mission here is simple – to be the best and most interesting quote site in the world! If you have quotes you would like us to cover, please contact us.