John David Jackson, better known as Fabolous, was born in 1977 in Brooklyn, New York. He performed on DJ Clue's 97 radio show and got his big break signing with DJ Clue's record label. In 2001 he made billboard's top 100 list as song 25 with his single, 'Can't Deny It'. Since then, Fabolous released many more songs and even was featured in other artist's songs.
'Trade It All' (2001), 'Do The D*mn Thing' (2004), 'Breathe' (2004), 'Imma Do It' (2009, 'Thow It In The Bag' (2009), 'Make Me Bett' (2011), 'Ready' (2013), 'She Wildin' (2014), 'Talk To Me Nicely' (2019), and 'Insecure' (2019) are just a few of the artist's many songs that have been released throughout his career. Jeremih, Ty Dolla $ign, French Montana, Ne-Yo, Chris Brown and Lil Wayne are some of the other well-known artists that Fabolous has made songs with.
Fabolous Quotes
"Now it's kinda hard for me to buy Ace 'specially when I just seen Hov buy Ace." – Fabolous
"I've been around for almost 10 years in the game but somehow I still look like I'm like on my second or third album or something. So it's good cause it doesn't blow up my age." – Fabolous
"I think the comfort of sneakers is really coming back. Everybody wants a cool pair of shoes, but they want to be comfortable." – Fabolous
"I don't want to attach myself to everything." – Fabolous
Like the shooter had a hood on, mighta been Dr. Doom.. Sounded like a fifth or a nine, couldn't tell though.. All a sudden, thunder, it mighta been Hoodie Melo." – Fabolous, 'F. Vs. Jason Intro'
"Never tripping off the past, I would rather never mind 'em.. 'Cause only fools trip over something that be behind 'em" – Fabolous, 'She Put It Down' (Remix)
"Being broke is a joke, I never found it funny / That's why I count my blessings / As much as I count my money…" – Fabolous
"I like different shoes with different themes for different reasons." – Fabolous
"I hate to see somebody get locked up, especially someone as talented as Lil Wayne. You know Wayne is a strong figure in the hip-hop marketplace, and for him to go away for 8 months, you know it's sad for hip-hop as a whole." – Fabolous
"Big boys, no youngins run it up, no Runyon.. Big rings, no Funyuns.. Lamb chops with no onions.. And a bad b*tch that knows money.. She so cold, have your nose running." – Fabolous, 'Stand Up'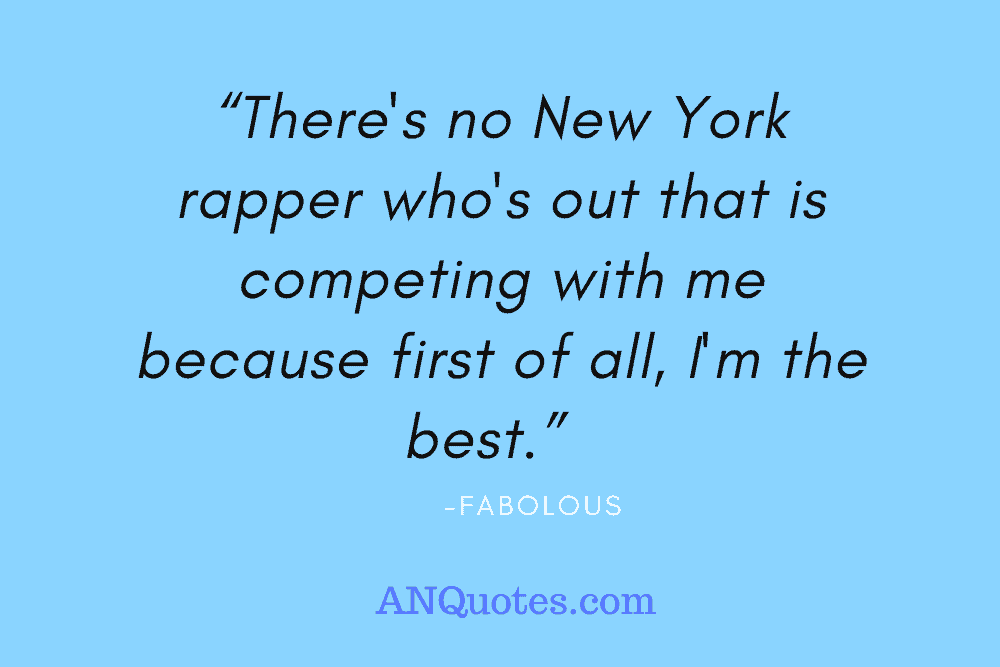 "Look I talk it cause I live it, stand on my own pivot, I don't need your credit, and you ain't got it to give it." – Fabolous, 'Been Around the World'
"Never tripping off the past, I would rather never mind 'em. 'Cause only fools trip over something that be behind 'em" – Fabolous
"Even though I am in the sneaker world, I am very diverse." – Fabolous
"Know your worth, ain't no discounts." – Fabolous
"They told me as a young G.. Even when you hungry never move like you starving… Any questions, asking above.. Any problems, mask and the gloves… Jason and Freddy basically ready… I'm like Masika and Alexis how I'm chasing the Fetti." – Fabolous, 'Theme Music'
"The saddest stories comes from those who once had the glory. Had the foreigns, diamond watches and the baddest shorties. Now they in their latter 40s, bunch of kids, scattered shorties. No respect from the neglect, they call they daddy Corey" – Fabolous, 'Young OG'
"There's no New York rapper who's out that is competing with me because first of all, I'm the best." – Fabolous
"Hypebeasts want shoes just to say other people don't have them." – Fabolous
"Don't make excuses, make deposits." – Fabolous
"The truck so fire, it came with a dalmation.. Hit the lights, cock the ladder, then slide down slow.. Them n*ggas don't want no smoke, they better lie down low.. These bars are still flaming, never died down flows… And I know some fire hoes that slide down poles.. Whoa, I'm used to the sirens.. I don't jump when I hear shots, I'm used to the firing." – Fabolous, 'Ground Up'
"Sweet thing, just to think of you dippin' Would have me with the blue's so hard, you would think I was crippin'" – Fabulous, 'So Into You' (Remix)
"You can't spell believe without a lie in the middle" – Fabolous
"I definitely like sneakers and shopping at sneakers stores." – Fabolous
"You should make more moves, and make less announcements." – Fabolous
"I tell you what you need to hear and not try to insult you.. I'm too old to kid you, I gotta adult you.. Listen, the sh*t is getting outta hand… Like fumbles in football, I humbly put y'all.. In y'all f*cking place, that's my OCD… I give a b*tch a little bit, but it's mostly D." – Fabolous, 'Soul Food'
"You posting like you balling, but you really in a struggle. Your captions be deep, but you shallow as a puddle." – Fabolous, 'Cuffing Season'
"I'm so devoted to my music and becoming the best artist I can be. I don't want to devote too much time to anything else before I say I've conquered that. I just wanna become bigger and I'm never satisfied with just what I am today, I just always want to be bigger." – Fabolous
"Everybody's not always open to everything. People have biased feelings about certain things, especially in the hip-hop world. The hip-hop world hates homosexuality." – Fabolous
"You know my work need no resume." – Fabolous
"You do dirt, you get dirt, that's how germs spread…Squash the beef with a funeral, it's confirmed dead.. See it's never 'bout the money cause I burn bread.. It's the principalities like Big Worm said." – Fabolous, 'Principles'
"As long as Fabolous the only one you let that grin show for. You ain't gotta spend no more, I'm a put a rock on your hand. You ain't gotta say 'we just friends' no more." – Fabolous, 'Trade It All'
"If I was Bill Gates, I would double Bill Gates. That's the mindstate you should keep in any profession, just keep striking iron and trying to get bigger and better." – Fabolous
"I try to do stuff that I'm more passionate about, more than just like being all over the place doing different sneakers." – Fabolous
"I started cheesin' after I turned my craft into cheddar." – Fabolous
"Now it's too late to talk, the topic has changed… They shootin at black targets like these cops at a range.. Can we talk how many died for the birth of a nation?.. And how this national anthem ain't worth my ovation?" – Fabolous, 'Talk About It'
"Shout out to the groupies, shout out to my ex. Probably saying f*ck me so shout out to the s*x." – Fabolous, 'Body Ya'
"It's okay to lose your pride over someone you love. Don't lose someone you love though over your pride!" – Fabolous
"Everything that I do, I try to put myself into it." – Fabolous
"Eagles don't fly with pigeons, they way higher. All wings flap but you gotta stay flyer." – Fabolous
""Yeah, God forgive us I know we don't pray as much as we should.. We call in bad times, don't stay in touch when we good.. 'Less it's your downfall they don't pray for much in the hood." – Fabolous, 'I Pray'
"I don't see nobody but it aint my vision, I see I'm what it is and you are what it isn't." – Fabolous, 'Lights Out'
"You can spend your time Dreaming about Living or Living your Dream" – Fabolous
"If you look at my closet, there's all kinds of shoes, but at the same time I don't want to spread myself thin as far as designs and collabs." – Fabolous
"Kings don't speak English. We speak Kinglish." – Fabolous
"When you wake up broke, how does sleep feel right.. Get up out the bed and make your dreams meet real life.. You should be a Dream Chaser, tryna Meek Mill life.. You make money in your sleep, that's when your sheets feel nice." – Fabolous, 'Nightmares Ain't as Bad'
"B*tch, I don't need your number, I'm seven-figured out. Nowadays, it looks like talk is all these n*ggas 'bout. Seems like the smallest pockets always have the biggest mouth." – Fabolous, 'All For The Love'
"Money is the root of all evil I thought….But when I'm broke is usually when I have the evilest thoughts." – Fabolous
"Never tripping off the past, I would rather never mind 'em/'Cause only fools trip over something that be behind 'em." – Fabolous
"Never stressed off lil' things, like a hater. That's something that comes when you eatin', like a waiter" – Fabolous
"We all need a little culture.. A little time away from bird *ss n*ggas and vultures." – Fabolous, 'Soul Food'
"They getting chips but I'm getting Doritos bout to get more Cheetos. I get you wet how you bust it like torpedoes." – Fabolous, 'We Good'
"I keep chicks in my lap, throwing me head fakes!" – Fabolous
"Don't keep that money waiting, it gets impatient." – Fabolous
"Gotta make it happen, no time for what may work. My plan B's another way to make my plan A work." – Fabolous
Related: Eminem's Best Quotes
Fabolous The Rapper Video: Make Me Better
If you are a fan of Fabolous, you will really like this video. It's one of his most popular videos ever with over 40 million views! Oh yeah and it features Ne-Yo Too!
Related: Tyler the Creator's Best Quotes and  Juice Wrld – Best Quotes
Summary
Out of the many fans of Fabolous, it is almost certain that you know one of those fans and can either send or share your favorite quotes with them. Maybe you are a pretty big fan yourself, share one of these quotes on your Facebook, Twitter or other social media platform.
Related: Nipsy Hussle's Inspiring Quotes
Image Credit: Still ill, CC BY 3.0 <https://creativecommons.org/licenses/by/3.0>, via Wikimedia Commons
I'm Alice Judy and AnQuotes is a fun hobby for me. We know that everyone loves a great quote and our mission here is simple – to be the best and most interesting quote site in the world! If you have quotes you would like us to cover, please contact us.