Nina Simone was born in Tryon, North Carolina, as Eunice Kathleen Waymon. She was a child prodigy which encouraged members of her hometown to set up a fund for her to become the first female black pianist in US history. With the help of her townspeople, Nina was able to enroll in the Juilliard School of Music of New York City. Nina Simone made a living by playing at a nightclub in Atlantic City. To hide her real name for the sake of her family, she opted for the pet name 'Nina', that a former boyfriend had given her.
Nina Simone recorded more than 40 albums between the 1950s and the 1970s. Nina Simone's most popular hits were "I Loves You, Porgy", "My Baby Just Cares for Me", and "Feeling Good". Nina Simone was more than just a songwriter; she was an active civil rights activist and wrote songs like "Mississippi Goddam" and "I Wish I Knew How It Would Feel to Be Free" that focused on African American rights in the US. She was an inspiring role model for women everywhere, which is why we have compiled a list of popular Nina Simone quotes for you.
Here are Some Classic Nina Simone Quotes
1."I'll tell you what freedom is to me: no fear. I mean really, no fear!" – Nina Simone
2."Music is an art, and art has its own rules. And one of them is that you must pay more attention to it than anything else in the world, if you are going to be true to yourself. And if you don't do it – and you are an artist – it punishes you." – Nina Simone
3."My daughter is in more competition with me. I never wanted to be bigger than my mother or to challenge her." – Nina Simone
4."I believe in racial memory too. I'm sure I've got ancient African blood in me that has something to do with what I am." – Nina Simone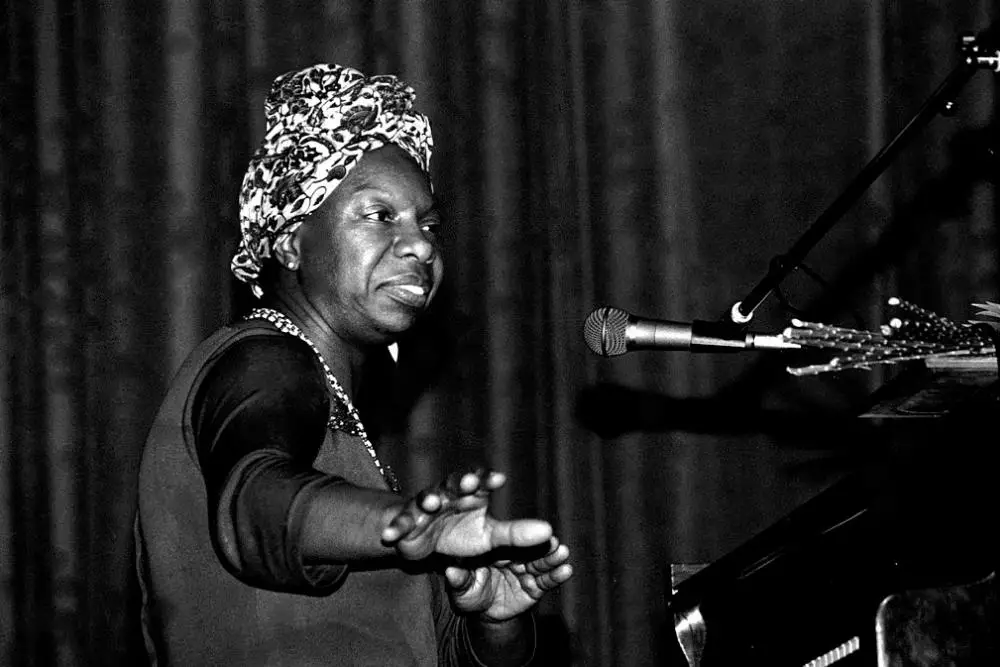 5."Love me or leave me and let me be lonely, You won't believe me, but I love you only…" – Nina Simone, 'Love Me Or Leave Me'
6."Once I understood Bach's music, I wanted to be a concert pianist. Bach made me dedicate my life to music, and it was that teacher who introduced me to his world." – Nina Simone
7."It was always Marx, Lenin, and revolution – real girl's talk." – Nina Simone, 'I Put a Spell On You: The Autobiography Of Nina Simone'
8."As a political weapon, it has helped me for 30 years defend the rights of American blacks and third-world people all over the world, to defend them with protest songs." – Nina Simone
9."I had spent many years pursuing excellence because that is what classical music is all about… Now it was dedicated to freedom, and that was far more important." – Nina Simone
10."I think that the artists who don't get involved in preaching messages probably are happier – but you see, I have to live with Nina, and that is very difficult." – Nina Simone
11."Anything human can be felt through music, which means that there is no limit to the creating that can be done with music." – Nina Simone
12."Life is short. People are not easy to know. They're not easy to know, so if you don't tell them how you feel, you're not going to get anywhere, I feel." – Nina Simone
13."There's no excuse for the young people not knowing who the heroes and heroines are or were." – Nina Simone
14."How can you be an artist and not reflect the times?" – Nina Simone
15."How do you explain what it feels like to get on the stage and make poetry that you know sinks into the hearts and souls of people who are unable to express it." – Nina Simone
16."What kept me sane was knowing that things would change, and it was a question of keeping myself together until they did." – Nina Simone
17."Slavery has never been abolished from America's way of thinking." – Nina Simone
18."The worst thing about that kind of prejudice… is that while you feel hurt and angry and all the rest of it, it feeds you self-doubt. You start thinking, perhaps I am not good enough." – Nina Simone
19."Jazz is a white term to define black people. My music is black classical music." – Nina Simone
20."Everything that happened to me as a child involved music. It was part of everyday life, as automatic as breathing." – Nina Simone
21."I am particular about the seating of the audience – also about how much money they pay – but most of all where they are seated. If I am going to sing something intimate, who am I going to sing it to?" – Nina Simone
22."We have ordered things so long in a certain way, we are numb. Nobody dares question it. This is what is wrong, symbolically, with America." – Nina Simone
23."I feel what they feel. And people who listen to me know that, and it makes them feel like they're not alone." – Nina Simone
24."Through music, you can become sad, joyful, loving, you can learn. You can learn mathematics, touch, pacing… Oh my God! Ooh… Wow… You can see colors through music. Anything!" – Nina Simone
25."My people have very subtle slang, inflections and ways of saying things that has little to do with words. If you're from the same place, you'll feel the jargon and know exactly what's happening. Same with any neighborhood cat. What he sees and hears and feels and lives makes him what he is. That's what blues is." – Nina Simone
26."My singing, if you want to call it that is merely another medium of expression. Just an instrument I play. That's how I see my voice." – Nina Simone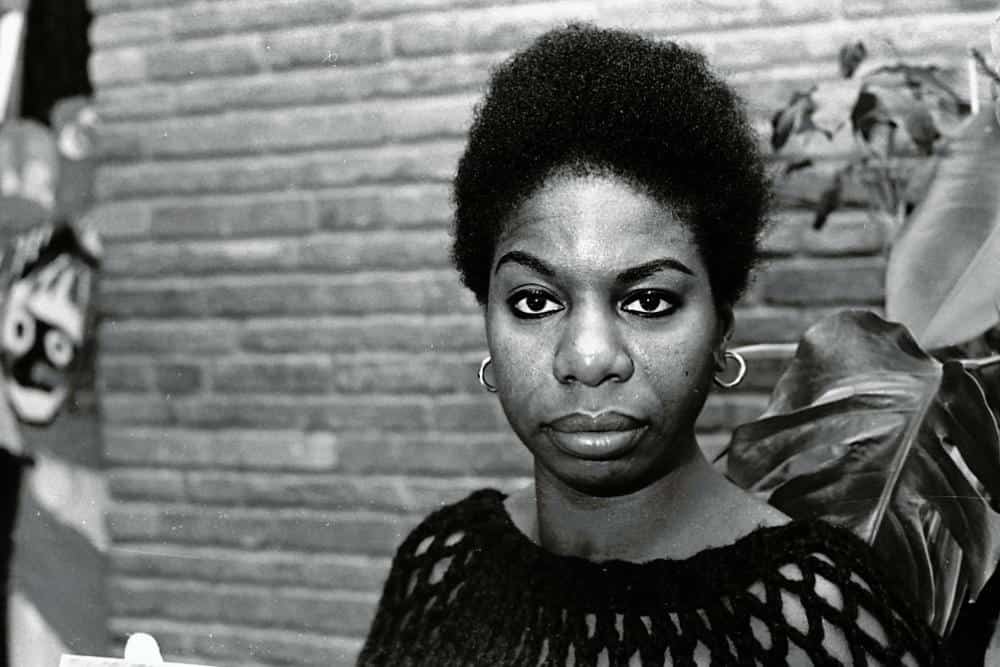 27."Funk, gospel, blues is all out of slavery times, out of depression, out of sorrow." – Nina Simone
28."I think the rich are too rich and the poor are too poor. I don't think the black people are going to rise at all; I think most of them are going to die." – Nina Simone
29."Sometimes I sound like gravel, and sometimes I sound like coffee and cream." – Nina Simone
30."It is difficult to retain your standards with the pressure of trying to make money, which always has its rules… It's hard to walk the tightrope of doing what you think is your best and making money at it." – Nina Simone
31."Jazz is not just music, it's a way of life, it's a way of being, a way of thinking… the new inventive phrases we make up to describe things – all that to me is jazz just as much as the music we play." – Nina Simone
32."I demand perfection in what I do, and I practice very hard before I give a concert-sometimes three to six hours a day." – Nina Simone
33."Greed has driven the world crazy. And I think I'm lucky that I have a place over here that I can call home." – Nina Simone
34."I've never changed. I've never changed my hair. I've never changed my color. I have always been proud of myself, and my fans are proud of me for remaining the way I've always been." – Nina Simone
35."I think women play a major part in opening the doors for better understanding around the world." – Nina Simone
36."You use up everything you've got trying to give everybody what they want." ― Nina Simone
37."I came to expect despair every time I set foot in my own country, and I was never disappointed." ― Nina Simone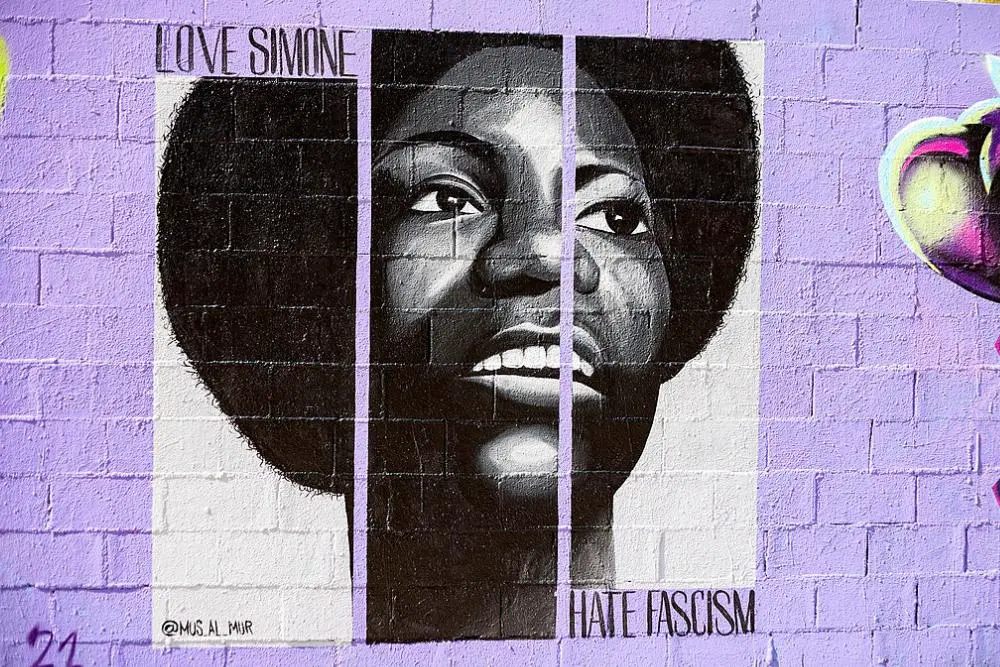 38."I have to constantly re-identify myself to myself, reactivate my own standards, my own convictions about what I'm doing and why." ― Nina Simone
39."Did you know that the human voice is the only pure instrument? That it has notes no other instrument has? It's like being between the keys of a piano. The notes are there, you can sing them, but they can't be found on any instrument. That's like me. I live in between this. I live in both worlds, the black and white world." – Nina Simone
40."I have to be composed; I have to be poised. I have to remember what my first piano teacher told me: 'You do not touch that piano until you are ready and until they are ready to listen to you'." – Nina Simone
Related: Inspiring Quotes from Dolores Huerta
A Guide to Nina Simone in 10 Songs
Born Eunice Kathleen Waymon, the concert pianist, singer, civil rights activist, and international icon would go on to change the culture itself with her peerless talent, fiery charisma, and unflinching political convictions. Here is a guide to Nina Simone in 10 songs.
Summary
Eunice Kathleen Waymon, with the stage name Nina Simone, was a singer, songwriter, pianist, and civil rights activist of the 20th century. After her classical education at Juilliard School of Music of New York City, Nina started her career as a pianist at a nightclub.
To hide her name from her family members, Eunice adopted the stage name Nina Simone (after her former pet name Nina and the French actress Simone Signoret). Simone became widely popular for her talents and recorded many popular songs with themes that revolved around liberation, love, and black culture. Even after she died in 2003, Simone is still widely appreciated for her stance and her global talents.
Related Articles
Our Favorite Quotes by Murray Rothbard
50 Evergreen Quotes by Robert T. Kiyosaki
55 Viktor Frankl Quotes That Inspire
Image Credit: Ron Kroon / Anefo, CC0, via Wikimedia Commons
Image Credit: Roland Godefroy, CC BY-SA 3.0 <http://creativecommons.org/licenses/by-sa/3.0/>, via Wikimedia Commons
Image Credit: Fotopersbureau de Boer, CC0, via Wikimedia Commons
Image Credit: kixmi71 from Iruñea, Euskal Herria, CC BY 2.0 <https://creativecommons.org/licenses/by/2.0>, via Wikimedia Commons
I'm Alice Judy and AnQuotes is a fun hobby for me. We know that everyone loves a great quote and our mission here is simple – to be the best and most interesting quote site in the world! If you have quotes you would like us to cover, please contact us.