Dayvon Daquan Bennett was born in Chicago, Illinois, on August 9, 1994. He was professionally known as King Von and signed to Empire Distribution and Only the Family record label. Von led a troubled life before he focused entirely on music. When he was 20 years old, he went to jail for one count of murder and two counts of attempted murder, but was later found not guilty.
After the murder charges were dropped, King Von started to clean up his life and focus on making music. He got his GED during his time in detention and attended South Suburban College to earn some college credits. Lil Durk of Only the Family had a significant impact on turning Von's life around. He welcomed Von to his record label, where he released his first breakout single, "Crazy Story," in 2018.
Von's first single with OTF had a few renditions that were as popular as the first one. In July 2019, Von collaborated with Lil Durk to release a single, "Like That." And another solo single, "What It's Like." The latter got featured in his Grandson, Vol. 1 mixtape.
King Von has two studio albums to his name. The first one was Welcome to O'Block, which was released in October 2020. The second studio album, What It Means to Be King, was released posthumously by King Von's management team in March 2022.
King Von did not lead an easy life, but his experiences helped him grow as a person and live a passionate life doing what he loved. Below are some King Von quotes to remember the artist.
King Von Quotes
1. "I am what I am. What I'm not, see I'll never be." – King Von
2. "Do you ever get that sad feeling out of nowhere?" – King Von
3. "You have got to look out for your people, man." – King Von
4. "You are either going to wait on it, or you are going to go and get it? The choice is yours." – King Von
5. "In jail, you do nothing but read, write, and think about the past that I did. In jail, you got nothing but memories… I read a lot of books in there. That's probably where that came from." – King Von
6. "I'll do whatever I can do." – King Von
7. "You gotta do what you gotta do." – King Von
8. "I'm from the streets, so I like rap music; that's what makes up the streets everywhere." – King Von
9. "Give positive vibes out even though what we are rapping about is really just entertainment right now. It's just music." – King Von
10. "When I say, 'Let me focus,' that was just me talking to the audience. I was talking to the audience. See, I was daydreaming in the car… Now, folks and I see what's going on… You see what I'm saying?" – King Von
11. "I'm good at it, though. The first time I do something, I'll probably be good at it." – King Von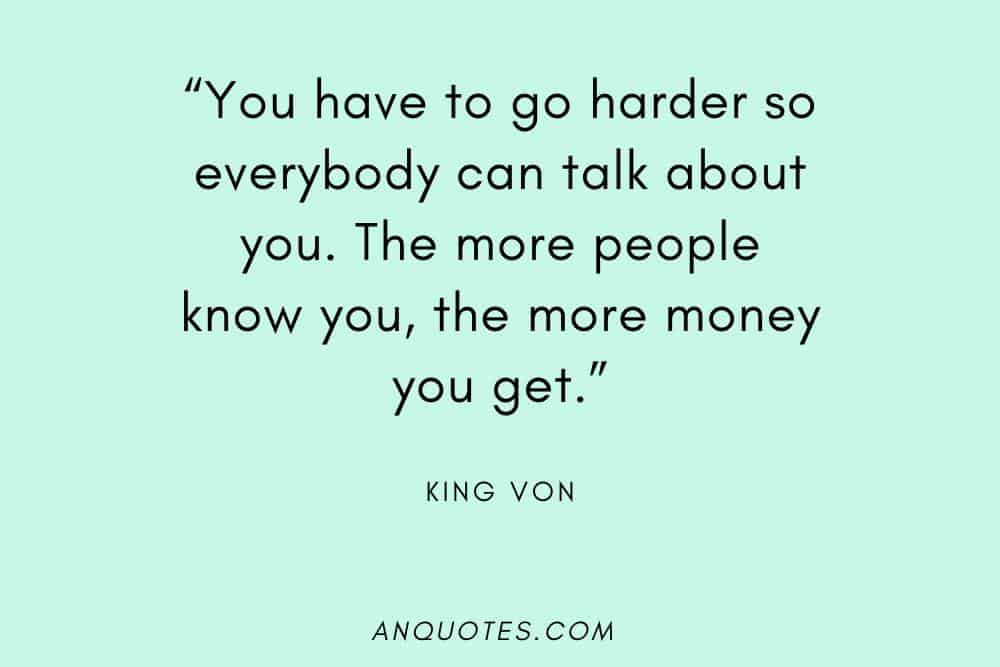 12. "You have to go harder so everybody can talk about you. The more people know you, the more money you get." – King Von
13. "I remember the times I had nowhere to go." – King Von
14. "A person that stands for nothing will fall for anything." – King Von
15. "Time goes by, and sh*t just changes, man. People get old. People got their own sh*t going on. You know how that goes." – King Von
16. "You know I can't do no overseas." – King Von
17. "I'm a player. Like I told you in the beginning. I was born a player. It's the player sh*t. Just let the window down, just a little bit…I let them handle it. You all take care of that sh*t… You all make that sh*t right. I was going to leave." – King Von
18. "You know? The ladies love me." – King Von
19. "I have to get busy because it's all about building and going up." – King Von
20. "I'm heartless. You can call me the 'Tin Man.'" – King Von
21. "Every video I see, I'm as bad as hell." – King Von
22. "I'm getting bigger. You just got to know how to handle that… People are going to be up in your business now." – King Von
23. "I need to make something raw real quick." – King Von
24. "I drop a song, and they quote it." – King Von
25. "Would've never guessed I'll be making movies." – King Von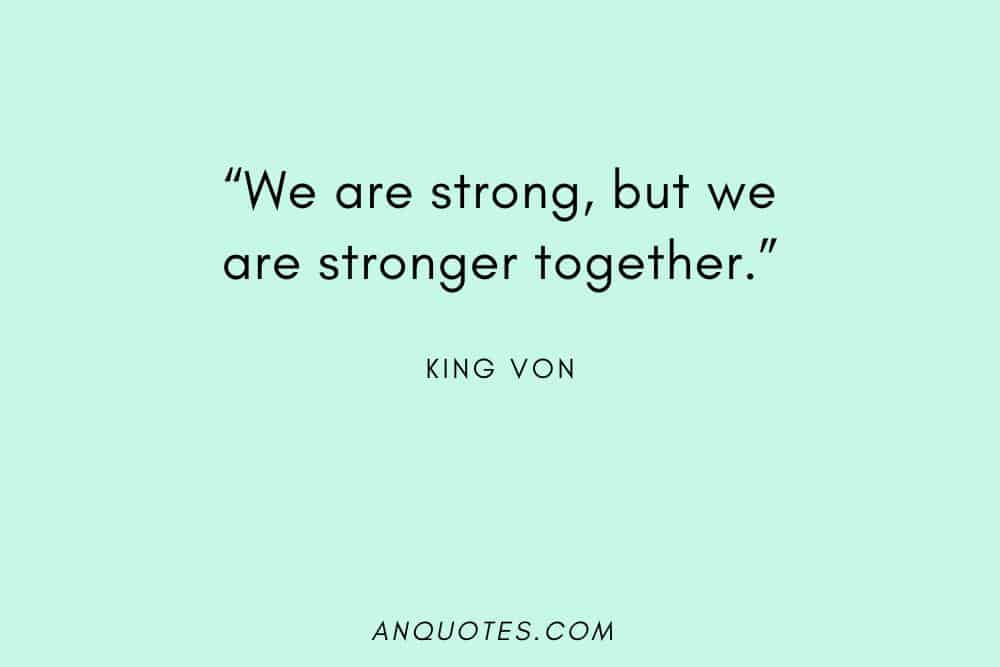 26. "We are strong, but we are stronger together." – King Von
27. "This one wasn't working for me. This one wasn't going right. I am not good at this. This is gonna get you a lot of time, so I'm going to try rapping." – King Von
28. "If I tell, 'I love you,' I mean it." – King Von
29. "I only trust one person, and that's my Glock." – King Von
30. "Sh*t just rhymes—it's just hypothetical." – King Von
31. "I thought I would have a real relationship, but I guess not." – King Von
32. "I got no flaws." – King Von
33. "I'm rich, and they can't take it. I'm just happy that we made it." – King Von
34. "Always watch your back for fake n*ggas." – King Von
35. "I'm done, did my time, I'm chilling." – King Von
36. "Watch who you mess with. The ones you think are real, they are fake." – King Von
37. "Watch the people in your gang." – King Von
38. "My love doesn't come with a price. You could put me in ice, and it won't stop me from skating off." – King Von
39. "Everyone be smiling, they miss me "– King Von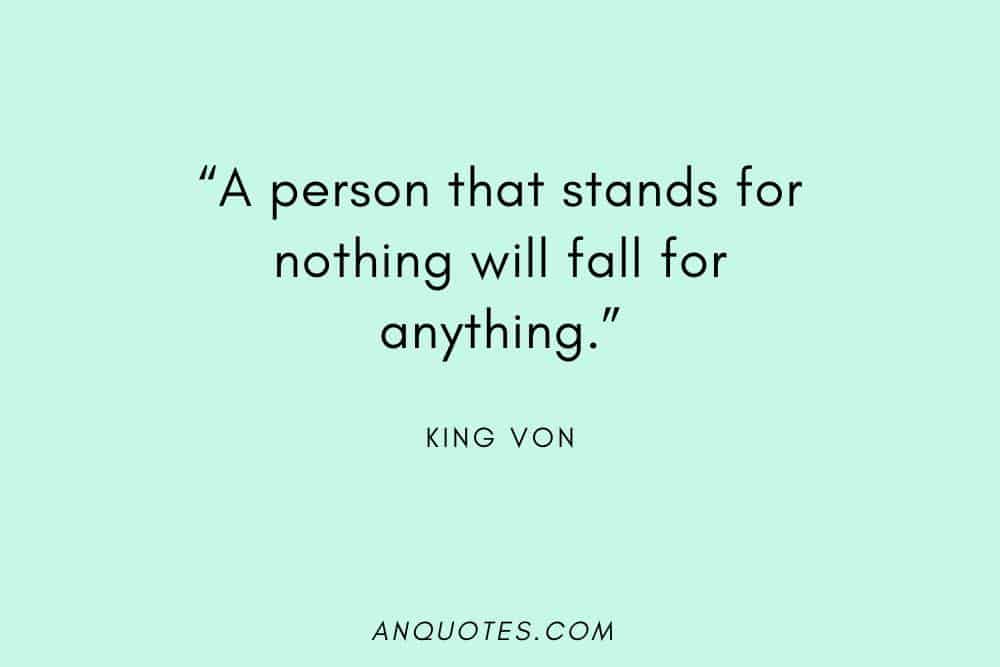 40. "A person that stands for nothing will fall for anything." – King Von
41. "I keep my distance like COVID (Yeah)." – King Von
42. "I'll do whatever I can do." – King Von
43. "My life grand theft auto – All my guns on semi-auto." – King Von
44. "My sneakers Louboutin, these aren't Puma's." – King Von
45. "That sh*t going to figure itself out in real life." – King Von
46. "Krump was doing all that wolfing. He didn't even make it." – King Von
47. "It's either going to be you in jail, or you die, or you get lucky…"– King Von
48. "If it isn't about money, I don't talk about it." – King Von
49. "Chicago isn't really like that." – King Von
50. "Prepared for the worst but still hoping for the best." – King Von
King Von – Too Real (Official Video)
Listen to the album "What It Means to be King" by King Von.
Summary
King Von was not in the music industry for many years, but his dedication allowed him to get recognized quickly. Fans of hip hop, gangsta rap, trap, and drill music are familiar with his name and recorded songs. Even after his death, King Von quotes serve as a reminder of the artist who had a courageous heart.
Related Articles
Link
Icebox, CC BY-SA 3.0, via Wikimedia Commons
I'm Alice Judy and AnQuotes is a fun hobby for me. We know that everyone loves a great quote and our mission here is simple – to be the best and most interesting quote site in the world! If you have quotes you would like us to cover, please contact us.