Rosa Dolores Alverio Maracano, better known as Rita Moreno, was born in Puerto Rico on December 11, 1931. As a dancer, singer, and actress, Rita started her career early, appearing in various television and film productions. Her career began in 1943, and now, even in her nineties, she has no plans to retire.
Some of Rita's critically acclaimed performances are West Side Story (1961), The King and I (1956), Jane the Virgin (2015-2019), and One Day at a Time (2017-2020). She is an inspiration for Hispanic actors and actresses who wish to succeed in Hollywood. Read on for Rita Moreno quotes about life as a Latina in Hollywood!
Rita Moreno Quotes
1. "You can't, or you shouldn't, be nominated for an Oscar unless you've turned in a performance that's special." – Rita Moreno
2. "I am able to get up and dust myself off and keep moving forward. I'm very stubborn." – Rita Moreno
3. "Then there's the story of ill-fated love. It's universal." – Rita Moreno
4. "I'm not afraid of color. I like color." – Rita Moreno
5. "If you can find a way your character moves, you know more about your character than you'd ever dream." – Rita Moreno
6. "I am not exactly Mrs. Good Housekeeping, although I love to cook, bake, even iron, but only because it's not mandatory." – Rita Moreno
7. "I love performing for kids, but you can't play down to them, of course. Then it would be 'Captain Kangaroo.'" – Rita Moreno
8. "I should be a representative for AARP!" – Rita Moreno
9. "Arrogance – I have very little tolerance for that." – Rita Moreno
10. "I love being onstage, I love getting applause, and I love the love that comes across the footlights. It's so much a part of what I do and what I've done most of my life." – Rita Moreno
11. "I started dancing almost before I could walk." – Rita Moreno
12. "If you're going to make black movies only about black people, that's as bad as white movies only about white people." – Rita Moreno
13. "My voice has many dynamics in it. Like my little body." – Rita Moreno
14. "Retirement is just not in my DNA." – Rita Moreno
15. "All my life, I faced sexism and racism and then, when I hit 40, ageism." – Rita Moreno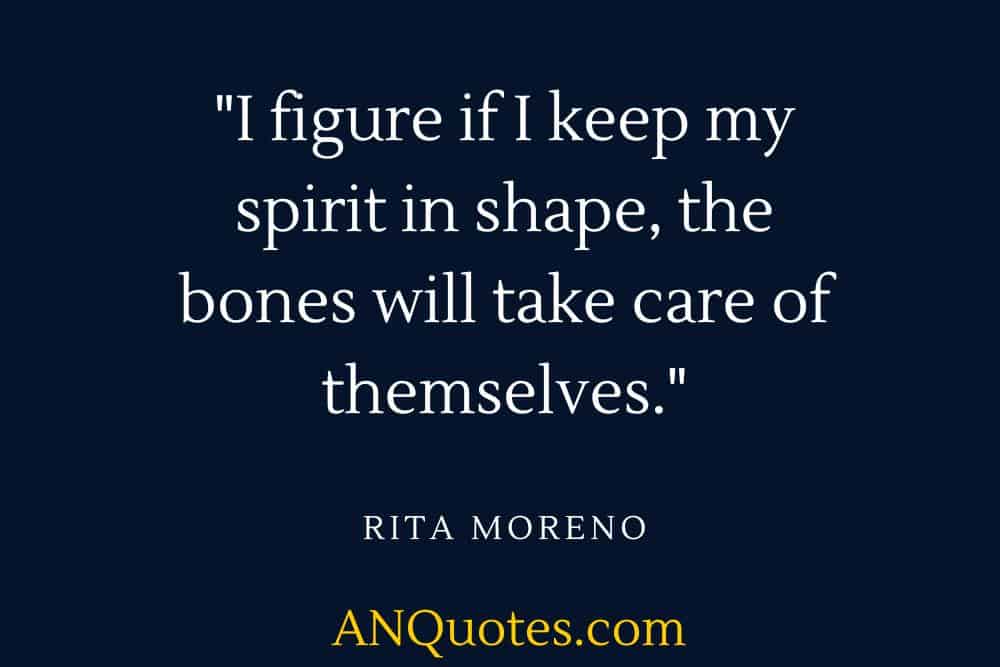 16. "I figure if I keep my spirit in shape, the bones will take care of themselves." – Rita Moreno
17."It's kind of heartbreaking when I talk about it now, I still get very moved by the lack of opportunities that were available to myself and to the very few others who were Hispanic young actresses." – Rita Moreno
18."I am a woman of the moment." – Rita Moreno
19. "I can't dwell on past mistakes." – Rita Moreno
20. "I have stamina, and I have energy." – Rita Moreno
21. "It is through art that we will prevail and we will endure. It lives on after us and defines us as people." – Rita Moreno
22. "Bigger than life is not difficult for me. I am bigger than life." – Rita Moreno
23. "You can never fight for a part or can't beg them to do another audition. You can try, but that rarely works." – Rita Moreno
24. "I live in the moment. The moment is the most important thing. That's my entire philosophy: Make the best of the good moments." – Rita Moreno
25. "I feel like I could go on forever." – Rita Moreno
26. "I was never offered enough, and that's the truth." – Rita Moreno
27. "Doing 'Life Without Makeup' onstage is what inspired me to do a book in the first place." – Rita Moreno
28. "I grew up as a child who felt she was very inferior to everyone else." – Rita Moreno
29. "I don't want to miss out on my grandchildren and my daughter, and doing Broadway would do just that." – Rita Moreno
30. "Maybe it's my age, but I know I look good, so I'm not going to look like another person suddenly because I don't have makeup on – same hair, same person." – Rita Moreno
31. "Elvis was really sweet and kind of bashful, but he didn't have a whole lot to say." – Rita Moreno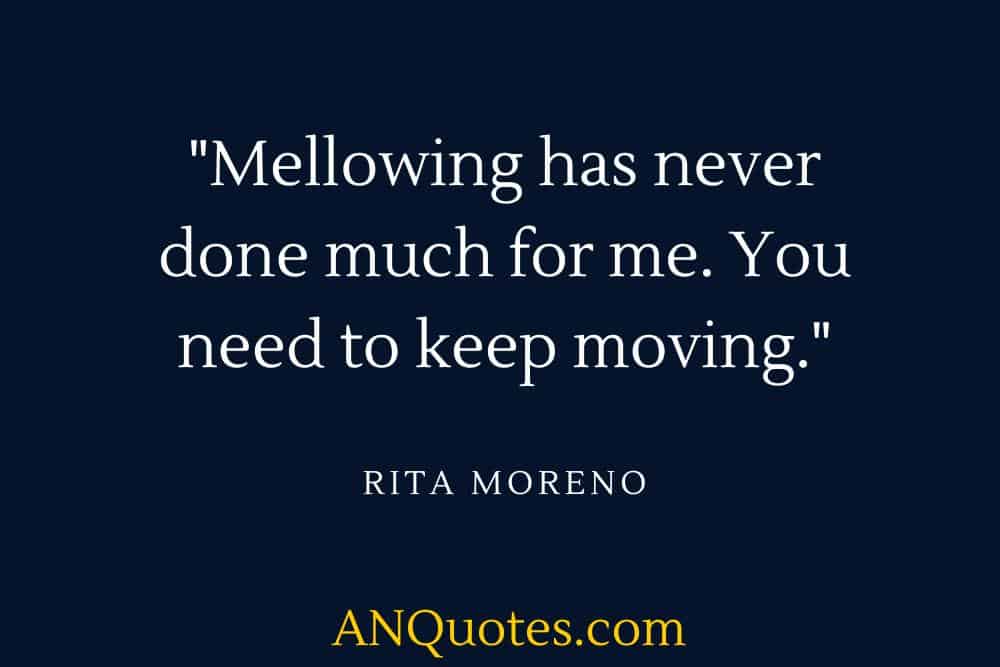 32. "Mellowing has never done much for me. You need to keep moving." – Rita Moreno
33. "This is my idea of heaven, coming home and watching the news." – Rita Moreno
34. "The one thing I really learned, and learned well, in group therapy was that you don't die if someone doesn't like you." – Rita Moreno
35. "I'm an afternoon tea maven. I can tell you who has the best tea in every country." – Rita Moreno
36. "I'm a person who perseveres. You know, you fall down, you get up." – Rita Moreno
37. "My husband and I were very different: I'm spontaneous and emotional; I'm loud – he was exactly the opposite. But you need to be flexible." – Rita Moreno
38. "When you engage your brain, it just keeps getting fatter and richer and wonderful." – Rita Moreno
39. "My grandkids are everything to me. For me, family is all!" – Rita Moreno
40. "No one's going to tell me how to make my own choices. For too many years, everybody told me what to say and what to do and how to be." – Rita Moreno
41. "I get embarrassed when I go to an actor or actress's home and it's filled with pictures of them." – Rita Moreno
42. "I write with my left hand even though I'm right-handed, I walk backwards in a very safe place – anything that engages your brain." – Rita Moreno
43. "If you're going to write about your life, you must write about your life." – Rita Moreno
44. "If I get a hangnail, I don't dare complain! Life is good. I wake up humming." – Rita Moreno
45. "People say that when you get to a certain age that you start to mellow. I have no idea what these people are talking about." – Rita Moreno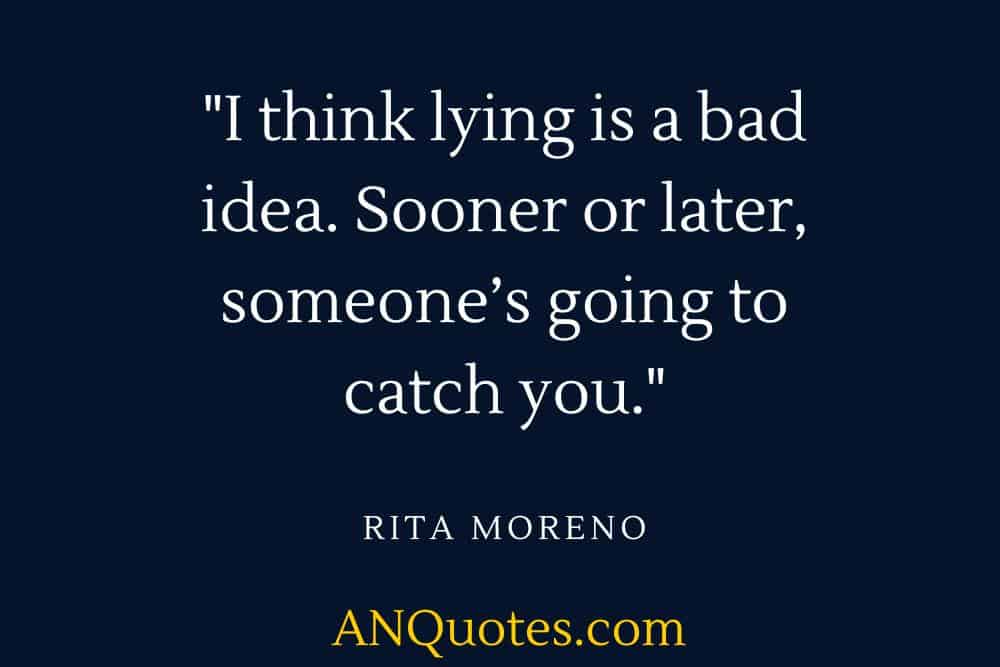 46. "I think lying is a bad idea. Sooner or later, someone's going to catch you." – Rita Moreno
47. "I'm trying as hard as I can to keep pushing the boundaries of what a woman is capable of doing. And it turns out there's a lot we can do. There's a lot we can speak about." – Rita Moreno
48. "I'm the happiest Hispanic I've ever met. Truly." – Rita Moreno
49. "You've got to make a decision when you write about your life, and I decided I was going to be honest, and some of those things will be embarrassing." – Rita Moreno
Top 10 Moments That Made Us Love Rita Moreno
For this list, let's look at moments from Rita Moreno's life and career that remind us just what a fantastic trailblazer she is. The countdown includes "West Side Story," "One Day at a Time," "The Golden Girls," and more!
Summary
Rita Moreno is a Puerto Rican-born American actress with notable works in the entertainment industry. She is among the few remaining stars of the Golden Age of Hollywood. Rita is in her nineties but remains active in the industry.
Besides being a renowned celebrity, she is a headstrong person who refused to let racial bias get in the way of her career, and these Rita Moreno quotes are a testament to that.
Related Articles
Harry Potter Quotes for Potterheads
Famous Tinkerbell Quotes from the Book and Movies
Link
"File:Rita Moreno face.jpg" by John Ferguson is licensed under CC BY-SA 3.0.
I'm Alice Judy and AnQuotes is a fun hobby for me. We know that everyone loves a great quote and our mission here is simple – to be the best and most interesting quote site in the world! If you have quotes you would like us to cover, please contact us.