Popularly known as Chief Keef in the music industry, Keith Farrelle Cozart was born in Chicago, Illinois. He was raised in the Washington Park neighborhood of Chicago's South Side, where the Black Disciples street gang reigns. Chief Keef is a member of this street gang with various other South Side rap artists.
He started attracting rap music fans in 2011 with his mixtape, The Glory Road and Bang. The same year, he was put under house arrest for firing a gun in public, and that's when he revolutionized the drill subgenre of hip hop. Keef uploaded several YouTube videos of his songs online, and among those, "I Don't Like" became a popular number in Chicago.
Chief Keef is also a talented songwriter and record producer. He has his own record label called Glory Boyz Entertainment (GBE), which he later changed to Glo Gang.
He has inspired many drill artists and aspiring hip-hop singers. If you are a hip-hop fan, here are some Chief Keef quotes and lyrics to inspire you.
Best Chief Keef Quotes
1. "Situation is what all you make of it." – Chief Keef
2. "Boy, you be the Tweeter, pull up I'm the tweaker, I'm the Grim Reaper, a demon with an Eagle." – Chief Keef
3. "I know my cousin would want me to be a better person and do better. When that happened, it was like he jumped in me… that was the biggest lesson. You have to grow up and make stuff happen. It really changed me a lot." – Chief Keef
4. "They like damn Sosa, where you fit that cash at?" – Chief Keef
5. "My gun screaming 'what now?' You want that tough sh..? Our guns act tough now." – Chief Keef
6. "I'm allergic to 3 things, and that's it. Fake ni…, peanut butter and lobster, that's it." – Chief Keef
7. "I hear these ni… flexing on the glory gang. How do you know us when we don't know your name?" – Chief Keef
8. "I'm glad to be someone people listen to and look up to. Glad that I can help change the situations and the scenery in Chicago. I love my city still but it is crazy." – Chief Keef
9. "I'm a fu… monster with some shoes on." – Chief Keef
10. "I got play-dough I don't play doe." – Chief Keef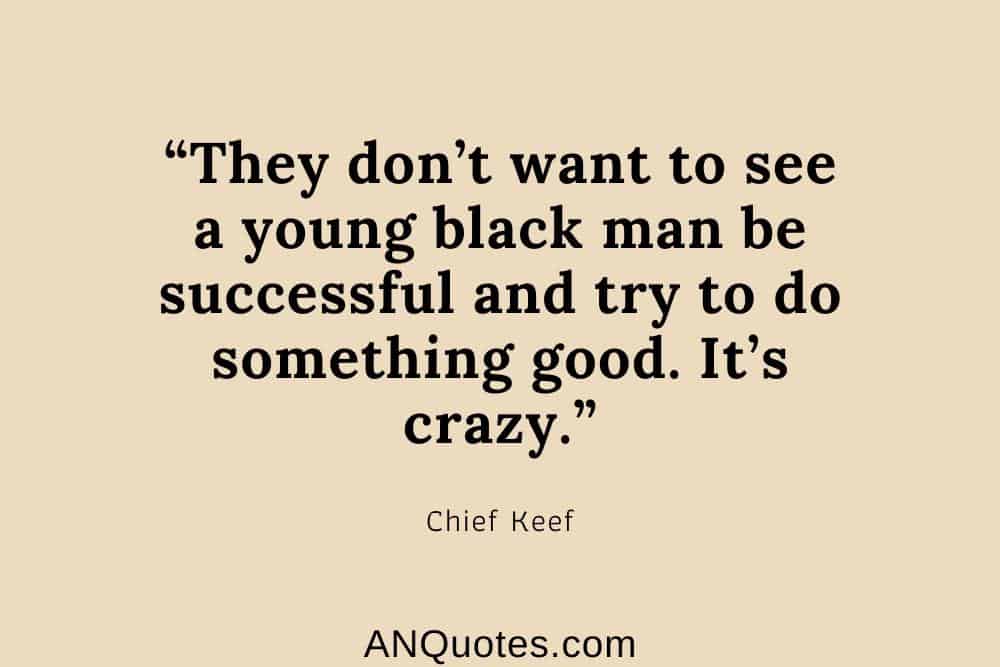 11. "They don't want to see a young black man be successful and try to do something good. It's crazy." – Chief Keef
12. "The purpose of nature is the advancement and development of life." – Chief Keef
13. "We are all in the gutter, but some of us are looking at the stars." – Chief Keef
14. "If I still went to school, I would walk in so icy." – Chief Keef
15. "I come up on the scene, and I'm stealing light… I'm high off life, got me feeling right… I'm Chief Keef… who don't like and… we GBE; we just go on site." – Chief Keef
16. "…nobody surf — everybody tries to skateboard, referring to rappers like Lil Wayne and Lupe Fiasco. It'll be cool. It's a hobby." – Chief Keef
17. "I've been balling so damn hard; I swear I think that I'm Kobe." – Chief Keef
18. "That money I am on it, I got no business sitting on it." – Chief Keef
19. "She thinks I love her. She must think she is some money." – Chief Keef
20. "I could cut my dreads and sell that sh.. on eBay." – Chief Keef
21. "I got away from all the unnecessary trouble, drama, problems. I came out here to where it's better life-wise, living. It's better out here than in Chicago because I get in so much trouble. It's crazy, but I like living out here. I think it improved me and changed me to stay and go somewhere bigger from here." – Chief Keef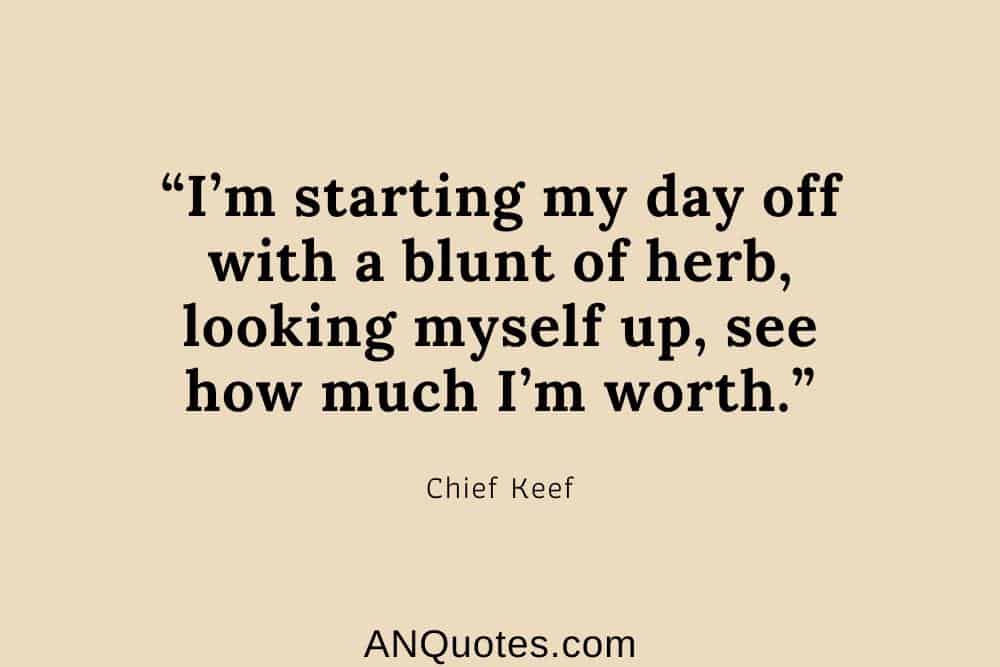 22. "I'm starting my day off with a blunt of herb, looking myself up, see how much I'm worth." – Chief Keef
23. "I come upon the scene, and I'm stealing light. B… I'm high off life, got me feeling right." – Chief Keef
24. "… I'm going to try to go another way. I like to keep going in different ways and keep it the same. I don't copy. Come up with my own stuff, my own everything." – Chief Keef
25. "…I'm a big dawg. Kill you all, then forget you all." – Chief Keef
26. "I'm high off this Earth boy, I'm where Jesus be, shoot a ni… a.., he doesn't believe in me. My truck is super-fast, don't think you're leaving me, Tray Savage got the mac, he makes it scream for me." – Chief Keef
27. "Throwing L's up, Glocks up. Don't start us, can't stop us. Everywhere they spot us. Chopper light, kill a cop though." – Chief Keef
28. "Damn, I hate being sober. I'm a smoker." – Chief Keef
29. "Tec chop like lawn mowers Feds listening, sh.., short convo. Hit a ni… with a combo. What I'm going to fight for? My choppers drum roll." – Chief Keef
30. "I'm with the stop the violence campaign; that's why I paintball now." – Chief Keef
31. "She's like Sosa, I'm a big fan. bi…, I'm leaning like a kickstand." – Chief Keef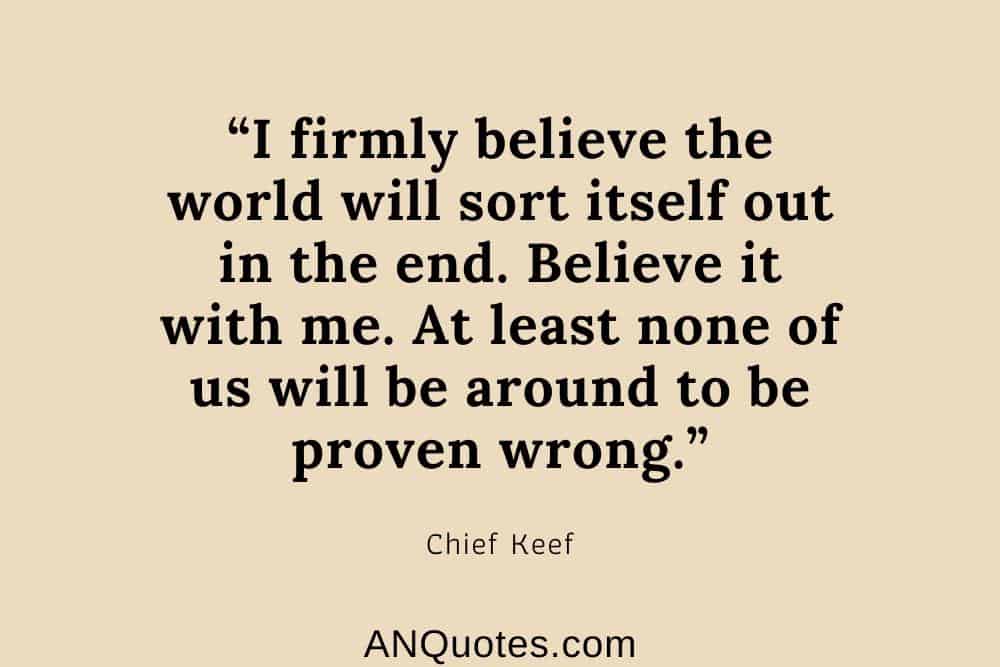 32. "I firmly believe the world will sort itself out in the end. Believe it with me. At least none of us will be around to be proven wrong." – Chief Keef
33. "This ni… looking at me like he wants some. Pistol to his face if he owes some. My boys, they keep their tools… OTF, they ride for Sosa." – Chief Keef
34. "You see you us you better run ni…. Bullets hot like the sun ni…." – Chief Keef
35. "Keep this shit one hunna. I keep this shit three hunna. I pull up in that Audi. You pull up in that Honda." – Chief Keef
36. "I can't handle no liquor. But these bi…es can't handle me. I can't control my ni…s. And my ni…s they can't control me. You say you know me, my ni… but you really just know the old me." – Chief Keef
Chief Keef & Lil Gnar – Almighty Gnar (Official Music Video)
Official Music Video for 'Almighty Gnar' By Chief Keef and Lil Gnar. The video is produced by Akachi, Rari, Bandrisk, and Pinkgrillz and directed by Lil Gnar, Sam McGrath, and Chief Keef.
Summary
Chief Keef quotes are mostly the lyrics of the songs he writes and performs. The words have inspired many artists (Kanye West is one of them!), and critics acknowledge his influence on hip-hop fans. With albums like Dead 2, Bang 3, and Thot Breaker, Chief Keef has created powerful music for the contemporary hip hop genre.
Related Articles
Link
"chief-keef" by mason1235 is licensed under CC BY 2.0.
I'm Alice Judy and AnQuotes is a fun hobby for me. We know that everyone loves a great quote and our mission here is simple – to be the best and most interesting quote site in the world! If you have quotes you would like us to cover, please contact us.