Robert Allen Zimmerman, more commonly recognized as Bob Dylan, was a popular American folk singer in the 1960s who switched to playing American rock music and eventually revolutionized the genre. He collaborated with some of the industry's top stars such as Elvis Presley, Pete Seeger, Gene Simmons, Paul McCartney, and many more, and made a name for himself as a brilliant songwriter.
Freewheelin' Bob Dylan was Bob Dylan's first album that allowed a breakthrough in his career owing to the beautiful and touching songs featured on it.
Aside from being a talented lyricist, Bob Dylan is also a poet, activist, and painter. He wonderfully intermixes his social, literary, and philosophical thoughts and influences in his work. He has also been awarded the Nobel Prize in literature and many notable awards from the academy.
Here Are Some of the Best Bob Dylan Quotes That Will Move You
1. "I define nothing, not beauty, not patriotism. I take each thing as it is, without prior rules about what it should be." – Bob Dylan
2. "I think of a hero as someone who understands the degree of responsibility that comes with his freedom." – Bob Dylan
3. "Don't criticize what you can't understand." – Bob Dylan, 'The Times They Are A-Changin'
4. "I think women rule the world and that no man has ever done anything that a woman either hasn't allowed him to do or encouraged him to do." – Bob Dylan
5. "Mona Lisa must have had the highway blues; you can tell by the way she smiles." – Bob Dylan, 'Visions of Johanna'.
6. "It's a wicked life, but what the hell, the stars ain't falling down." – Bob Dylan, 'Goin' to Acapulco'
7. "A man is a success if he gets up in the morning and gets to bed at night, and in between, he does what he wants to do." ― Bob Dylan
8. "The future for me is already a thing of the past – You were my first love, and you will be my last." ― Bob Dylan, Bob Dylan – Love and Theft: Piano/Vocal/Guitar
9. "Sometimes it's not enough to know what things mean; sometimes you have to know what things don't mean." ― Bob Dylan
10. "People seldom do what they believe in. They do what is convenient, then repent." ― Bob Dylan
11. "Some people seem to fade away, but then when they are truly gone, it's like they didn't fade away at all." ― Bob Dylan, Chronicles: Volume One
12. "DESTINY is a feeling you have that you know something about yourself nobody else does. The picture you have in your own mind of what you're about WILL COME TRUE. It's a kind of a thing you kind of have to keep to your own self, because it's a fragile feeling, and you put it out there, then someone will kill it. It's best to keep that all inside." ― Bob Dylan, The Bob Dylan Scrapbook: 1956-1966

13. "When you feel in your gut what you are and then dynamically pursue it – don't back down and don't give up – then you're going to mystify a lot of folks." ― Bob Dylan
14. "If you try to be anyone but yourself, you will fail; if you are not true to your own heart, you will fail. Then again, there's no success like failure." ― Bob Dylan
15. "You need something to open up a new door, to show you something you have seen before but overlooked a hundred times or more." ― Bob Dylan, Writings and Drawings
16. "You're gonna have to serve somebody; well, it may be the devil, or it may be the Lord, but you're gonna have to serve somebody…" ― Bob Dylan
17. "I think of a hero as someone who understands the degree of responsibility that comes with his freedom." ― Bob Dylan
18. "How does it feel, how does it feel to be without a home, like a complete unknown, like a rolling stone." ― Bob Dylan
19. "I'm against nature. I don't dig nature at all. I think nature is very unnatural. I think the truly natural things are dreams, which nature can't touch with decay." ― Bob Dylan
20. "You don't have to be afraid of looking into my face. We've done nothing to each other that time will not erase." ― Bob Dylan

21. "There are many here among us who feel that life is but a joke. But you and I, we've been through that, and this is not our fate, so let us not talk falsely now; the hour is getting late." ― Bob Dylan
22. "There's only one day at a time here, then it's tonight, and then tomorrow will be today again." ― Bob Dylan, Chronicles: Volume One
23. "They say that patriotism is the last refuge to which a scoundrel clings. Steal a little, and they throw you in jail. Steal a lot, and then they make you king." ― Bob Dylan
24. "The worth of things can't be measured by what they cost but by what they cost you to get it, that if anything costs you your faith or your family, then the price is too high, and that there are some things that will never wear out." ― Bob Dylan, Chronicles: Volume One
25. "All right, I'll take a chance. I will fall in love with you. If I'm a fool, you can have the night; you can have the morning too. Can you cook and sew? Make flowers grow? Do you understand my pain? Are you willing to risk it all, or is your love in vain?" ― Bob Dylan
26. "Democracy don't rule the world; you'd better get that in your head; this world is ruled by violence, but I guess that's better left unsaid." ― Bob Dylan (Lyric)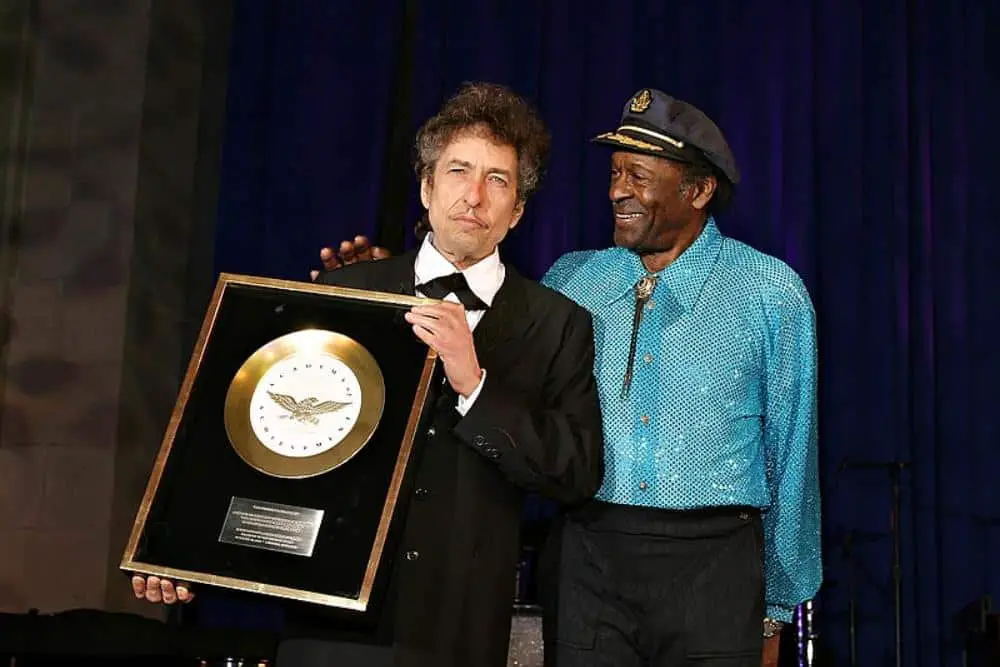 Bob Dylan Quotes – Frequently Asked Questions (FAQs)
What did Bob Dylan get a Nobel Prize for?
The Nobel Prize academy explained that they had awarded Bob Dylan the prize to honor his work and for creating fresh poetic expressions in the American song culture. Bob Dylan has earnestly shared his views and elaborated on the troubles of an ordinary man eloquently with his songwriting skills.
What is Bob Dylan's most famous song?
There are many famous songs by Bob Dylan that have received international acclaim. Nevertheless, Like a Rolling Stone remains to be one of the best and most popular songs Bob Dylan has written and sang for his audience.
Did Bob Dylan write a song for Elvis?
Bob Dylan made his name in the American folk music genre only within a few years. His quick rise to success can be partly owed to Elvis Presley, Bob Dylan's idol, who officially recorded two of his songs. The song Tomorrow Is A Long Time was a part of the Spinout soundtrack album, which was written by Bob Dylan and sung by Elvis Presley.
Bob Dylan San Francisco Press Conference 1965
Bob Dylan's 1965 San Francisco televised press conference in full. This was recorded on 3 December 1965.
Summary
Bob Dylan is a revolutionary singer, songwriter, activist, poet, and painter who has beautifully incorporated his political, social, and philosophical influences into his songs. He has collaborated with several different artists and talented songwriters over the years to create evergreen songs that can touch a person's soul.
Mr. Dylan is an inspiration to many young singers and songwriters who have grown up listening to his classic hits from the 1960s.
To read more fascinating quotes from famous personalities, click on any of the links below.
Related Articles
35 Uplifting George Harrison Quotes
53 Most Motivating Quotes By Tom Waits
The Best Amy Winehouse Quotes That Will Leave You in Awe
Image Credits:
Jean-Luc, CC BY-SA 2.0, via Wikimedia Commons
Jarc12030, CC BY-SA 4.0, via Wikimedia Commons
Xavier Badosa, CC BY-SA 3.0, via Wikimedia Commons
Rowland Scherman , Public domain, via Wikimedia Commons
I'm Alice Judy and AnQuotes is a fun hobby for me. We know that everyone loves a great quote and our mission here is simple – to be the best and most interesting quote site in the world! If you have quotes you would like us to cover, please contact us.