Everyone faces highs and lows in their life. Getting your dream job, taking your partner to their favorite vacation spot, or enjoying quality time with your family can all be some of our happiest memories. However, there may also be depressing times when you struggle to get out of bed or a tragedy leaves you shaken to the core.
Hitting the lowest point in life is not easy or as enlightening as it is made out to be in some motivational speeches. It requires you to build resilience against your circumstances and emerge a stronger and wiser individual.
If you need inspiration or some optimism in this dark period of your life, you should read the following inspiration rock bottom quotes. These motivational sayings will help you discover new beginnings and change your perception of life.
Here Are Some of the Most Moving Rock Bottom Quotes
1. "When you hit rock bottom, that is when you realize how much God loves you. Because when everyone walks away, He carries you." ― Gift Gugu Mona, Daily Quotes about God: 365 Days of Heavenly Inspiration
2. "You have got nothing? Start from nothing but don't give excuses. Give fire. Give passion. Give commitment." ― Hiral Nagda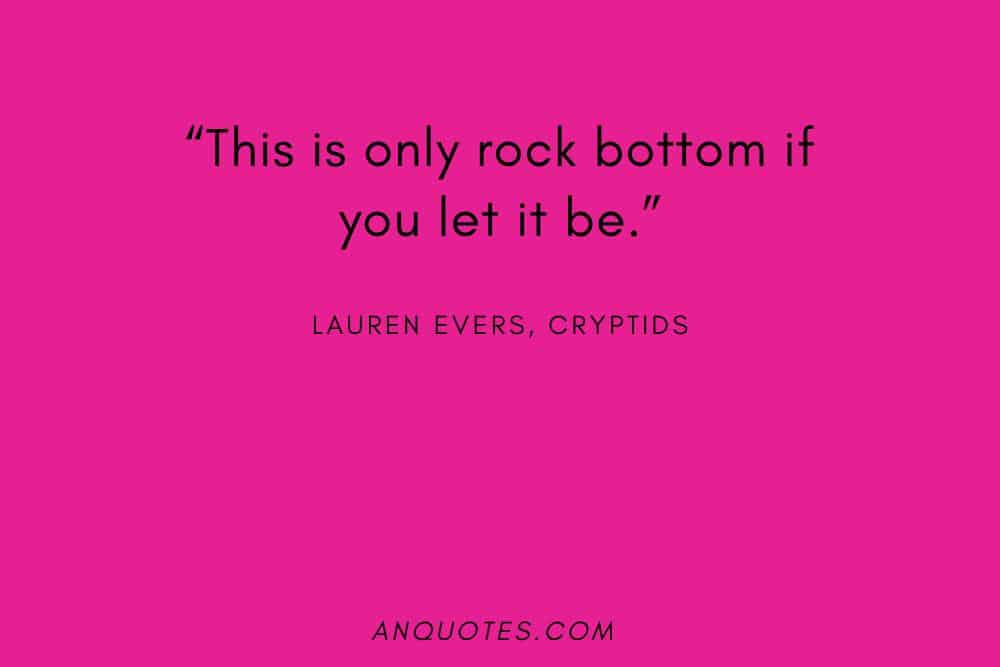 3. "You are fortunate if you got a chance to hit rock bottom in life. The diamond that you are can magnificently shine only under that tremendous pressure." ― Hiral Nagda
4. "Rock bottom is somewhere none of us ever want to be, but sometimes it happens. It's a place that, if we allow it, can destroy us. On the other hand, it can teach us about the deepest, darkest parts of ourselves for our ultimate growth." ― Kristen Butler, 3 Minute Positivity Journal: Boost your Mood. Train Your Mind. Change Your Life.
5. "Rock bottom became the solid foundation on which I rebuilt my life." ― J.K. Rowling
6. "When this ultimate crisis comes… when there is no way out – that is the very moment when we explode from within, and the totally other emerges: the sudden surfacing of a strength, a security of unknown origin, welling up from beyond reason, rational expectation, and hope." ― Émile Durkheim
7. "When you decide to hit rock bottom, humiliation is part of the deal." ― Guillaume Musso, Seras-tu là?
8. "Rock bottom can be our greatest teacher – as long as we don't stay there for too long." ― Kristen Butler, 3 Minute Positivity Journal: Boost your Mood. Train Your Mind. Change Your Life.
9. "There would be no cloud-nine days without rock-bottom moments left below." ― Richelle E. Goodrich, Making Wishes: Quotes, Thoughts, & a Little Poetry for Every Day of the Year
10. "No one needs to hit rock bottom to change. And yet so many people do, only because most of us are unskilled in communicating with ourselves. Stress, depression, anxiety, insomnia, headaches, illness… these are all symptoms of a bigger problem. You're trying to tell yourself something. Loudly. Listen now or listen later. There is no ignoring the call." ― Vironika Tugaleva
11. "The best thing about rock bottom is the rock part. You discover the solid bit of you. The bit that can't be broken down further. The thing that you might sentimentally call a soul. At our lowest, we find the solid ground of our foundation. And we can build ourselves anew." ― Matt Haig, The Comfort Book
12. "I think this is what we all want to hear: that we are not alone in hitting the bottom, and that it is possible to come out of that place courageous, beautiful, and strong." ― Anna White, Mended: Thoughts on Life, Love, and Leaps of Faith
13. "When I'm at the bottom looking up, the main question may not be 'how do I get out of this hole?' In reality, the main question might be 'how do I get rid of the shovel that I used to dig it?" ― Craig D. Lounsbrough, A View from the Front Porch: Encounters with Life and Jesus
14. "When you feel like you have been hit, dig deep and hit back. Rock bottom is not your end; it is your beginning." ― Christine Evangelou, Stardust and Star Jumps: A Motivational Guide to Help You Reach Toward Your Dreams, Goals, and Life Purpose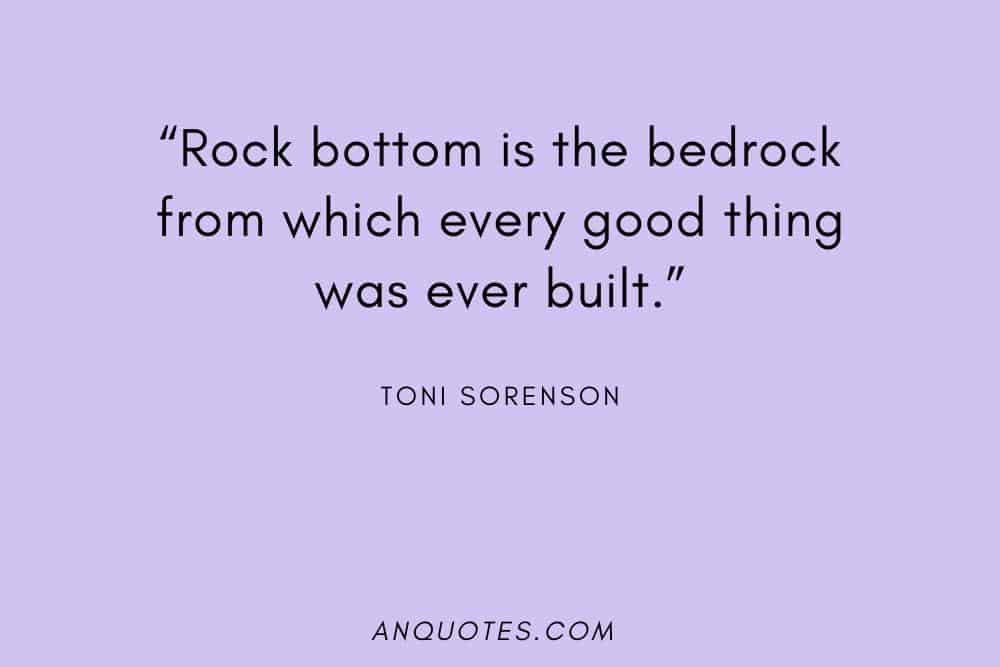 15. "You can perhaps, in a number of circumstances, tell yourself that you can't have more than you have until you do better than you're doing, but by all means steer clear of its reverse, the creed of defeat, in saying that you can't do better than you're doing until you can have more than you have." ― Criss Jami, Healology
16. "Recovering alcoholics talk about needing to hit rock bottom before they are able to climb out. The paradox for the workaholic is that rock bottom is the top of whatever profession they're in." ― David Chang, Eat a Peach
17. "In the end, the only way you can appreciate your progress is to stand on the edge of the hole you dug for yourself, low down inside it, and smile fondly at the bloody claw prints that marked your journey up the walls." ― Ryan Holiday, Ego Is the Enemy
18. "The further you fall into the hole, the higher you have to climb to get out." ― Brittany Burgunder, Safety in Numbers: From 56 to 221 Pounds, My Battle with Eating Disorders
19. "One of the most amazing things that we often forget is this: God never forgets us! Face it; you could hide under a rock, but God will still be beside you saying, 'Rock bottom, already?'" ― Mary Kate
20. "Once you hit rock bottom, that's where you perfectly stand; That's your chance of restarting, but restarting the right way." ― Justin Kanayurak
21. "The beauty of adversity is that when we hit bottom, the only way to go is up." ― Dana Arcuri, Reinventing You: Simple Steps to Transform Your Body, Mind, & Spirit
22. "As it turns out, it was that very rock bottom that became the most firm foundation I had ever planted my feet on. A foundation so solid, it finally provided the springboard I needed to outrun that teasing, taunting shadow of unworthiness that had followed me my entire life." ― Mandy Hale, You Are Enough: Heartbreak, Healing, and Becoming Whole
23. "Nearly everyday life leans over and says, 'Come on down!' But standing at the bottom, looking up, it's finally dawned on me that it's not these invitations that have dug this hole. Rather, it's the fact that I accepted them." ― Craig D. Lounsbrough
24. "The purest form of faith happens when you reach the bottom of your reasoning and find there is nothing that you can do that will make sense out of what you have been through." ― Shannon L. Alder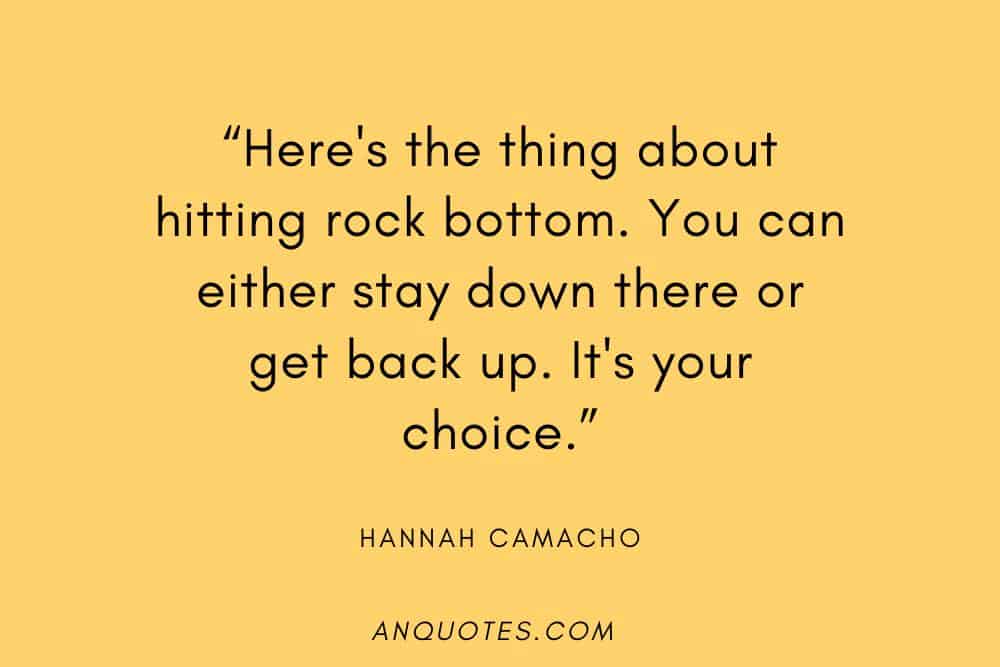 25. "People dealing with trauma and depression don't magically get better overnight. It's not like in the movies, Mary. There's no magic reset button at rock-bottom." ― Benjamin W. Bass, Alone In The Light
26. "The beauty of adversity is that when we hit bottom, the only way to go is up." ― Dana Arcuri, Reinventing You: Simple Steps to Transform Your Body, Mind, & Spirit
27. "When you hit rock bottom, test your limits, compete with yourself and challenge your potential. There is no greater glory than self-achievement." ― Somya Kedia
Hitting Rock Bottom: The Gift of Losing it All | Sal Costa | TEDxCollingwood
Sal Costa, a Platinum Selling Rockstar, shares the story of his rise to the top and his fall to the bottom and how the hardest time in his life turned into the greatest gift of all. Sal Costa is a Platinum-selling, #1 Billboard USA, and Juno Nominated recording artist who was a member of the breakout band My Darkest Days.
Summary
Many people begin to lose hope in this dark phase of life and leave all their dreams behind to simply survive. Regardless of how tough your situation may be, it is vital that you do not give up and surrender to the pressure and chaos in your life. Even the tiniest glimmer of hope can become your light at the end of the tunnel and push you through difficult times with courage. You never know: hitting rock bottom may just be the fuel to achieving new and better goals in life.
Related Articles
134 Quotes about Inner Peace that Will Help Soothe Your Soul
The 50 Most Encouraging Positive Energy Quotes
33 Reassuring People Come and Go Quotes to Help You Move On
I'm Alice Judy and AnQuotes is a fun hobby for me. We know that everyone loves a great quote and our mission here is simple – to be the best and most interesting quote site in the world! If you have quotes you would like us to cover, please contact us.