Who is Frank Kameny? He is considered by many to be the "father of gay liberation" and his tireless advocacy of gay rights.
Dr. Franklin Edward Kameny was born in May 1925 to an Ashkenazi Jewish couple. He graduated from Richmond Hill High School in 1941. Dr. Kameny was drafted into the US Army while pursuing a bachelor's degree in physics from Queens College. He served in the army throughout World War II and returned to complete his degree in 1948. He later enrolled at Harvard University and got his master's degree and doctorate.
Dr. Kameny relocated to Washington, DC, to teach at Georgetown University, but in 1957, the army hired him again. When a supervisor asked about his sexual orientation, Dr. Kameny did not respond, leading to him losing his job. He was also barred from future federal government employment in 1958.
The decision did not budge Dr. Kameny, and he decided to challenge it in court. The judicial system denied his appeal twice before he tried his luck with the US Supreme Court, where he got turned down again. The situation led him to dedicate his time to gay rights activism, and he never had a paid job again in his life.
Activists call him "the father of gay liberation," and he is recognized today for advocating on behalf of the LGBTQ+ community when the majority remained passive. Dr. Kameny's work does not end there—he is also responsible for removing homosexuality from the mental illnesses list in America. He spent his life for only one purpose and died at the age of 86 in October 2011.
Here are some Dr. Frank Kameny quotes that establish his views on gender equality and LGBTQ+ rights:
Inspirational Dr. Frank Kameny Quotes
1. "If I disagree with someone, I give them a chance to convince me they are right. And if they fail, then I am right, and they are wrong, and I will just have to fight them until they change." ― Dr. Frank Kameny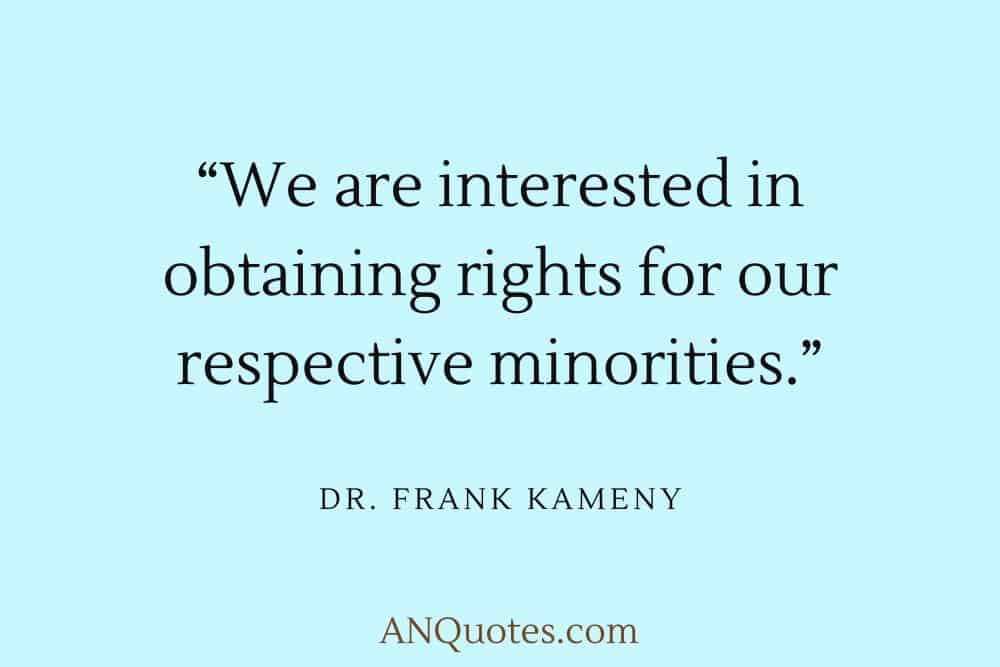 2. "We are interested in obtaining rights for our respective minorities." ― Dr. Frank Kameny
3. "Not only is homosexuality, whether by inclination or overt act, not immoral, but homosexual acts engaged in by consenting adults are moral, in a positive and real sense." ― Dr. Frank Kameny
4. "There's an ethical and moral obligation by the city for this group of establishments. The city created [the O Street cluster]. If these establishments had decided quite on their own when all this happened, that would be a different matter, but they were very specifically directed to go down there." ― Dr. Frank Kameny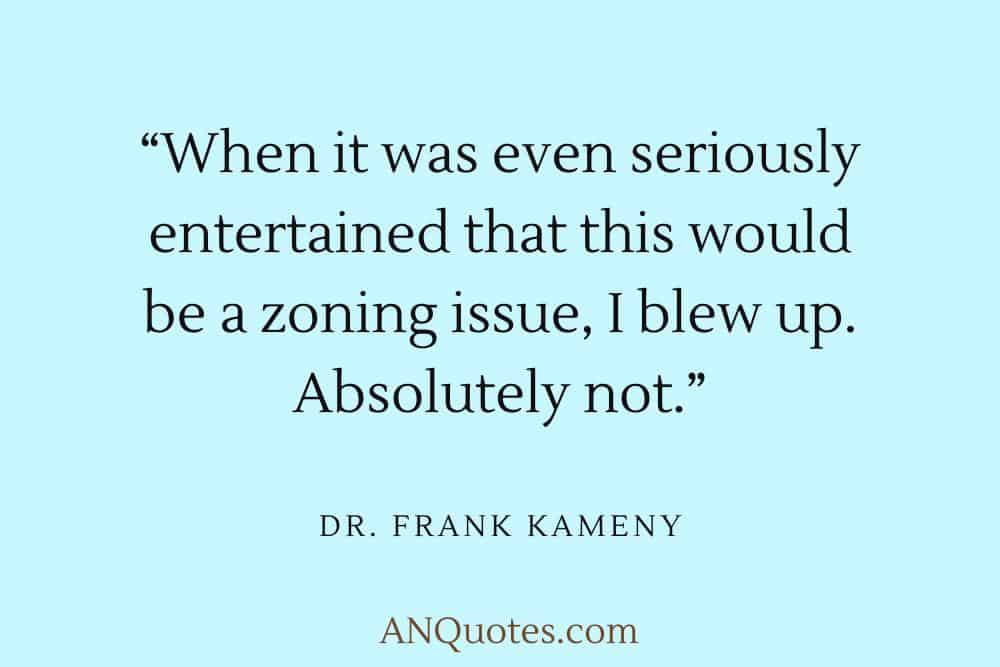 5. "When it was even seriously entertained that this would be a zoning issue, I blew up. Absolutely not." ― Dr. Frank Kameny
6. "Bestiality is not my thing, but it seems to be a harmless foible or idiosyncrasy of some people. So, as long as the animal doesn't mind (and the animal rarely does), I don't mind, and I don't see why anyone else should." ― Dr. Frank Kameny
7. "On a one-time basis for these O Street establishments, they should be exempted from all of these restrictions so they can move as a group if they want to some practical place." ― Dr. Frank Kameny
8. "As I have been saying for nearly a year, the law needs to be changed to allow the gay businesses to move to another part of the city." ― Dr. Frank Kameny
9. "The person who really needs the psychotherapy (…) is not the homosexual youngster who gets dragged to the psychiatrist's office by his mother, but the mother, to relieve her anxieties about his homosexuality." ― Dr. Frank Kameny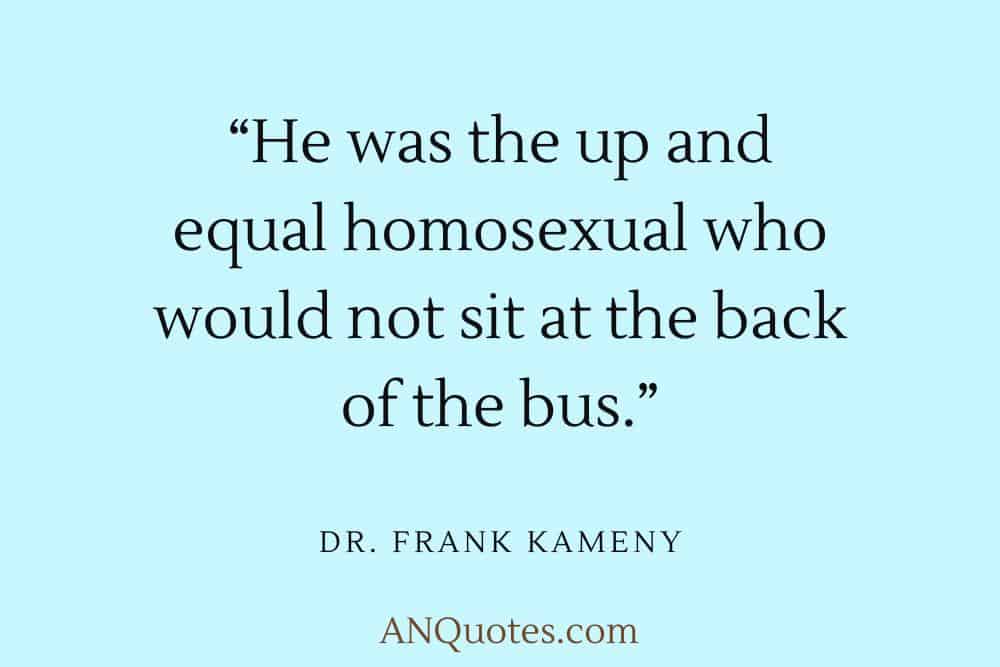 10. "He was the up and equal homosexual who would not sit at the back of the bus." ― Dr. Frank Kameny
Frank Kameny: Google Celebrates Pride Month with Doodle
Google, on Wednesday, celebrated the start of Pride Month with a doodle honoring American astronomer, veteran, and gay rights activist Dr. Frank Kameny. Franklin Edward Kameny, born in Queens in New York on May 21, 1925, is widely hailed as one of the most prominent American LGBTQ+ rights movement figures.
Summary
Although he was fired from a federal job as a young man, Dr. Frank Kameny got recognized by the Office of Personnel Management in 2009. John Berry apologized to him on behalf of the government and presented him with the most prestigious honor, the Theodore Roosevelt Award. In 2021, Google also honored Dr. Kameny by celebrating Pride Month with a Google Doodle to recognize his efforts towards the US LGBTQ+ rights movement in the US.
Related Articles
Motivational Bill Cosby Quotes
35 Inspirational Phil Jackson Quotes
32 Hilarious John Mulaney Quotes
Link
"Frank Kameny" by dbking is licensed under CC BY 2.0.
I'm Alice Judy and AnQuotes is a fun hobby for me. We know that everyone loves a great quote and our mission here is simple – to be the best and most interesting quote site in the world! If you have quotes you would like us to cover, please contact us.