Virgil Abloh, born 30th September 1980, was an American entrepreneur and fashion designer. He was the artistic director of Louis Vuitton's collection since 2018 and was offered increased creative responsibilities across the LVMH brand at the beginning of 2021. Virgil was also the CEO of the Milan-based level, known as off-White, which he founded in 2012.
As a trained architect, Virgil worked in Chicago street fashion and then entered the world of International fashion via an internship at Fendi in 2009 alongside Kanye West. The two started an artistic collaboration that resulted in the launch of Virgil's career that founded Off-White. Virgil Abloh was named by Time magazine among the top 100 most influential people worldwide in 2018. Virgil Abloh was the first African American to serve as an artistic director at a French luxury fashion house.
Below are Virgil Abloh's most motivational quotes.
Virgil Abloh Quotes
1. "DJing is my only peace of mind. When the phone is off, I play my favorite songs really loud for myself, and I'm not talking to anyone; I'm not managing anything. It's just, like, a time when I can listen to music."– Virgil Abloh
2. "To me, graphic T-shirts are the most important and most expressive format for a designer or a person. Your taste in graphic tees says a lot about your point of view."– Virgil Abloh
3. "Big teams are absolutely vital if you want to achieve certain results when you're working on larger scales, both in terms of physical size and productive quantities."– Virgil Abloh
4. "It is an honor for me to accept the position of men's artistic director for Louis Vuitton. I find the heritage and creative integrity of the house are key inspirations and will look to reference them both while drawing parallels to modern times."– Virgil Abloh
5. "For me, as I was growing up, I studied architecture, I was into music, and I always felt that there was a gap between the things that I loved and consumed and who made them and how they made them."– Virgil Abloh
6. "When creativity melds together with global issues, I believe you can bring the world together."– Virgil Abloh
7. "My goal was to tell a dialogue between high fashion and streetwear. So, the name Off-White, in my mind, is between black and white. So, that middle ground is a mixture between both genres of fashion."– Virgil Abloh
8. "For me, I analyze the modern girl, the girl that I'm friends with, and they're empowered: They pay their own bills. They have their own style. They wear clothes – the clothes don't wear them."– Virgil Abloh
9. "If you look at why people become wack as they get older, it's because they stop doing the things they did that were formative to their work. You can't mentally stay still. You can't not challenge yourself."– Virgil Abloh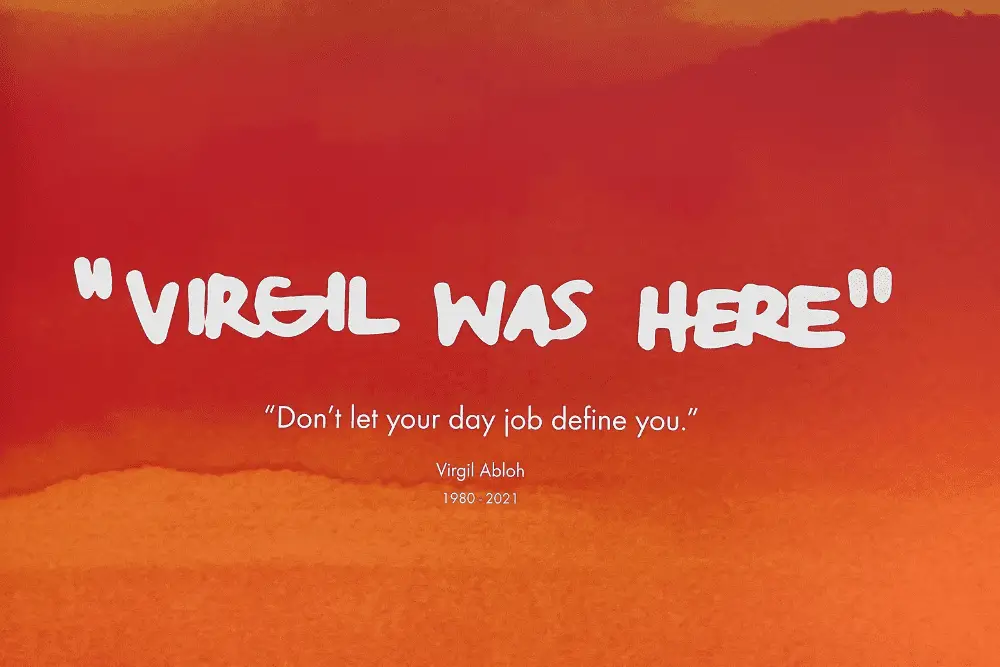 10. "My general premise is not about selling clothes. If that's your end goal, then all of a sudden everything looks the same, you know – you start designing by numbers."– Virgil Abloh
11. "I look at culture, and I see what the kids around me are wearing, and I see a particular style. I understand the space between fashion and streetwear."– Virgil Abloh
12. "I feel like I'm figuring things out, but I don't feel accomplished yet. I still feel like I'm an intern."–Virgil Abloh
13. "It's easier to be a critic than to produce work. So the only way to get to the end means is to start the domino effect. Which is essentially put out bad work."– Virgil Abloh
14."Everything I do references something that influenced me."– Virgil Abloh
15." People, when they say 'streetwear,' they miss the central component, which is that it's real people, it's clothes that are worn on the street."– Virgil Abloh
16. "The amount of random conversations that lead to culture-shifting ideas is insane."– Virgil Abloh
17. "I oftentimes say that I design my collections off my phone. I'm in a group chat with my team in Milan. I copy and paste. I draw. I look at trends. I don't really have an assistant. It's a modern way of working. I don't know if it's sustainable, but it's how I do it."– Virgil Abloh
18. "Take Tom Sachs as an artist. His brain is more brilliant than anything, so of course, anything he puts out over a ten-year period is going to continue to be super relevant. But if you look at some artists, they have one good idea, but unless you know where it's coming from, it's not going to be lasting."– Virgil Abloh
19. "Growing up, at high school, we all used to wear Champion garments, which, in America, are standard-issue gym uniforms."– Virgil Abloh
20. "I'm a kid from Chicago. I know what it was like to see Obama become president. We felt the tectonic plates of the world shift."– Virgil Abloh
21. "The best New Year's resolution I ever made was probably to, like, pursue fashion in the spirit that I have now."– Virgil Abloh
22. "Murakami's ability to deconstruct and his aesthetic and conceptual freedom have been totally inspiring for me."– Virgil Abloh
23. " I pride myself in collaborating and being a creative director, and creative direction isn't putting my opinion first. It's supporting an artist so they get the most out of the project."– Virgil Abloh
24. "For me, there's a subtlety in focusing on the right shape of T-shirt and pants. I recognize that it's boring, but the idea is to catch people off-guard and reward them in some valuable way."– Virgil Abloh
25. "I always live in multiple places. I'm never in the same city for seven days."– Virgil Abloh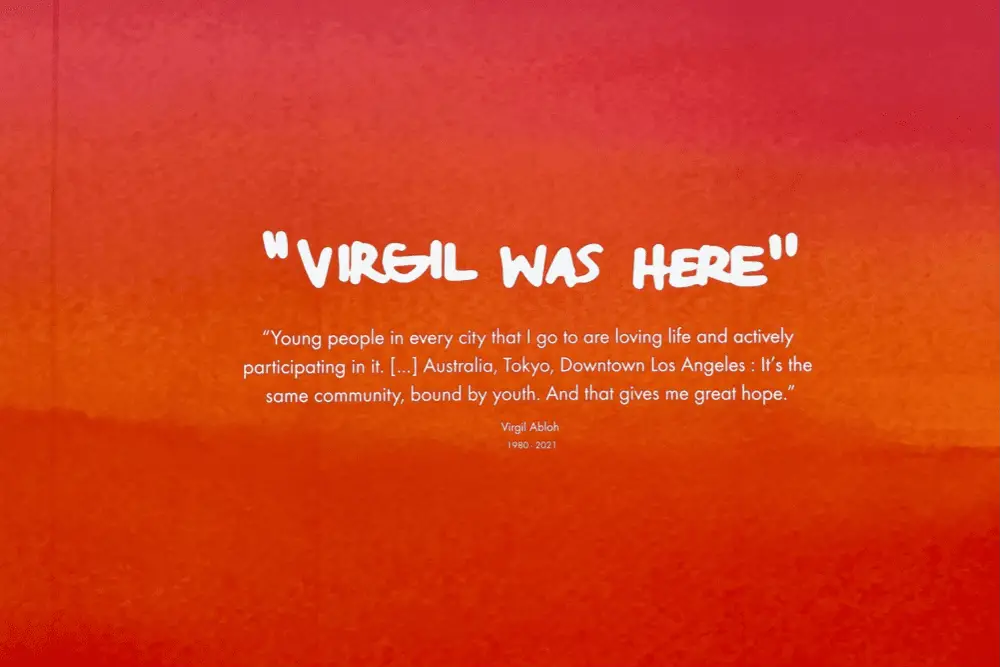 26. "The whole point of collaboration is that you give and take from each other, and that's how you create things that are totally new."– Virgil Abloh
27. "For me, just as a social recorder of 2016, there's a new girl that emerged that can shop in between Zara and designer and still maintain a sense of her personality and identity."– Virgil Abloh
28. "I started off as a kid who didn't care what my education was."– Virgil Abloh
29. "My first degree was in structural engineering, which is super-boring."– Virgil Abloh
30. "I'm mostly into buying art from friends. I like to keep it vague – just whatever I find intriguing."– Virgil Abloh
31. "All the skateboarding brands that I was into had graphic T-shirts. In the '90s, there were different styles that went along with the different influences in skateboarding, whether that be hip-hop or rock and roll and grunge. And that's what I was into, so I was following all that."– Virgil Abloh
32. "Creative director' is a catchall phrase for giving ideas. To me, it obviously means more than that. It's like being a counselor."– Virgil Abloh
33. "I don't do the vintage thing so much, just because it's not me. There are some vintage designers I'll buy things from, but mostly not."– Virgil Abloh
34. "I always joke that, at any given time, I'm supposed to be at two other places."– Virgil Abloh
35. "Collaboration is not a punchline… I only collaborate with the best in each category."– Virgil Abloh
36. "I like to look at fashion and relate it to the time when it was happening."– Virgil Abloh
37. "Pyrex Vision's first season was, for me, an expression of myself as an artist first, designer second."– Virgil Abloh
38. "From a very young age, as a teenager, I was into hip-hop and skateboarding and all those things that were akin to a kid in the '90s. All those things are what resulted in clothes."– Virgil Abloh
39. "I interned at Fendi while Michael Burke was overseeing Fendi."– Virgil Abloh
40. "I have this overriding principle that streetwear could end up like disco: that it will be perceived well at the time but doesn't age well at all."– Virgil Abloh
Related: Intriguing Quotes about Models and Modeling
41. "Young architects can change the world by not building buildings."– Virgil Abloh
42. "I hate stores. Stores are corny. It's a fact. Who wants to be sold anything?"– Virgil Abloh
43. "Kanye's the best. He really, really is. He's cool. And why we've always gotten along is because we can just sit down and talk about art."– Virgil Abloh
44. "All I do all day is think of ideas and implement them. That's an industry, you know. I'm trying to make art on a commercial scale."– Virgil Abloh
45. "Ironic things are interesting."– Virgil Abloh
46. "I just wanna start a brand that inspires and is geared towards youth."– Virgil Abloh
47. "Collaboration is not a punchline… I only collaborate with the best in each category."– Virgil Abloh
48. "I think the reason why Off-White exists is to modernize fashion."– Virgil Abloh
49. "I think my original ambition was to be an artist."– Virgil Abloh
50. "I hate being up on stage with a microphone."– Virgil Abloh
Video: RIP Virgil Abloh | The Joe Budden Podcast
In this touching tribute, Joe Sudden pays tribute to Virgil and his amazing life and career.
Related: Coco Chanel's Most Famous Quotes
Summary
Mr. Abloh died recently in November 2021, following a private battle with a rare form of cancer. He was originally dIagnosed in 2019. Prior to his passing, he continued to create for his own label, Off-White and also for Louis Vuitton, where he was the menswear creative director.
Although Virgil Abloh lived a short life, he had a successful career and a huge impact on the fashion industry. This made him featured among the top 100 most influential people in the world in 2018.
Virgil notes one of his principles is based on the idea that a new design can be created by typically changing an original by just three percent. The above quotes by Virgil Abloh are very encouraging and inspiring on taking your career and passion seriously.
Image Credit: Myles Kalus Anak Jihem, CC BY-SA 4.0 <https://creativecommons.org/licenses/by-sa/4.0>, via Wikimedia Commons
I'm Alice Judy and AnQuotes is a fun hobby for me. We know that everyone loves a great quote and our mission here is simple – to be the best and most interesting quote site in the world! If you have quotes you would like us to cover, please contact us.