Adolph Robert Thornton Jr. was born on July 27, 1985. He was an American rapper who went by the stage name Young Dolph. He released his debut album in 2016, called King of Memphis, which was a chartbuster. Young Dolph was also featured in "Cut It" by O.T. Genasis, and the hit number was on the Billboard Hot 100.
Young Dolph was raised by his grandmother, who taught him the importance of independent living. He always wanted to leave the impoverished life he knew far behind and make a name for himself. Although 2016 was his year of commercial success, Young Dolph first released his mixtape Paper Route Campaign in 2008. By 2010, he had established his label Paper Route Empire.
His success was not well-received by some people. Young Dolph's car was shot over 100 times, but it had bulletproof panels, so no one got hurt.
The artist took advantage of the shooting and released his second album, Bulletproof. This wasn't the last shooting incident in his life. Young Dolph was shot multiple times until a fatal incident took his life in 2021. Here are some Young Dolph quotes to celebrate his music, life, and never-give-up attitude!
Young Dolph Quotes
1. "You forego time. That's the one thing you can't pay for, the only thing you can't get back at the end of the day. So, you'll have to learn to sacrifice that time for something you're trying to invest in." — Young Dolph
2. "To be a hustler, it's got to be in you…some people have it but don't have it as much as others. And to be a hustler and to be a super hustler, you have got to know how to deal with sacrifices." — Young Dolph
3. "Designer everything, every day on this paper chase. An extra $500k put away just for a rainy day." — Young Dolph
4. "I'm going to keep working in the future like I just came in. Like, I'm doing free shows or getting $1,500 for a show. I've been around certain people…Being around prolific artists rubbed off on me, and it shows in my own output—my back catalog could fill crates." — Young Dolph
5. "One year from today, I'll be on another level. Having more, doing more—a whole lot of everything, really. More dope music, bigger music, bigger records" — Young Dolph
6. "Whatever you want to do, just make solid decisions." — Young Dolph
7. "I'm going to invest in my career. I'm going to invest in my future. I'll invest in the little dude next to me just because I see something in him. I'm going to do anything beneficial that I see bringing my future to life. So that's my money and my time." — Young Dolph
8. "You focus on money, your life. It's like you can only move a certain kind of way out here, to be on the streets, to working a job, to making music—whatever you are doing. You can only move one kind of way, and if you don't, it can hurt you; you can put a roof over your head, and you can limit your chances. I don't want to limit myself to doing nothing, so that's all that is." — Young Dolph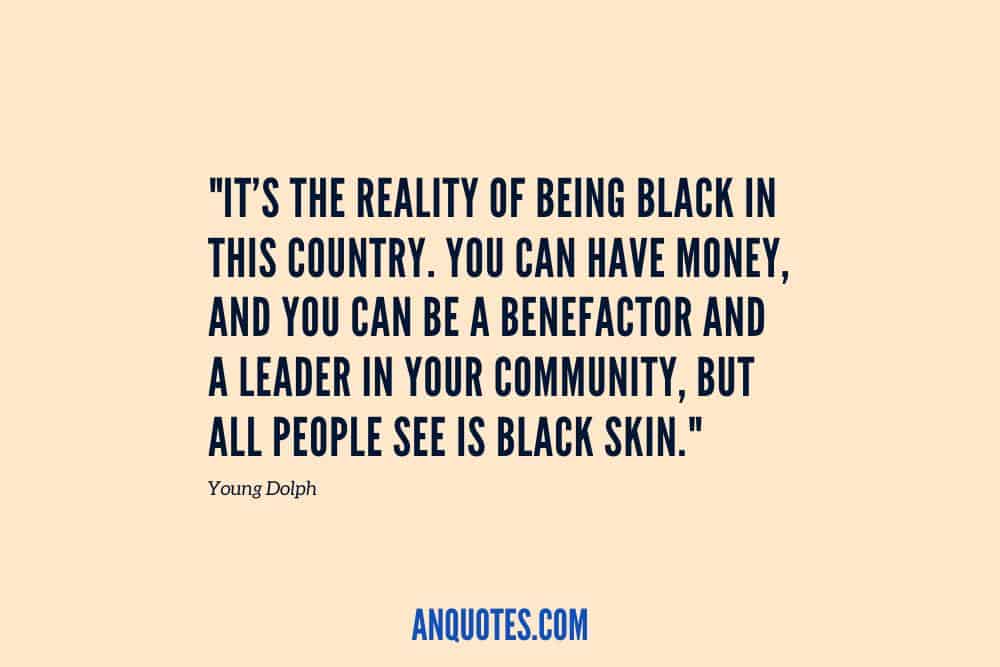 9. "It's the reality of being black in this country. You can have money, and you can be a benefactor and a leader in your community, but all people see is black skin." — Young Dolph
10. "I admire you because you work." What can we do if you don't work? "We don't have much in common." — Young Dolph
11. "I pay her bills and buy her designer, but I don't love her/she just play her part when it's time to smuggle." — Young Dolph
12. "Once you get up and you finally get across that line, and you've got a brand to stand on, it's going to be beneficial." — Young Dolph
13. "With the streets in my rearview, I adopted a get-money attitude and hustler mentality early-on, which helped me later on in life as I developed my career as a rapper." — Young Dolph
14. "Foreigns all in the garage, remember my first menage/Yeah, Tori and Brittany, I'm shopping for diamonds at Tiffany's." — Young Dolph
15. "When I'm finished doing music or whatever, I want people to remember me as just being great." — Young Dolph
16. "As long as I keep going up and keep working, my value is going to increase." — Young Dolph
17. "Rule number one: get the money first. Rule number two: don't forget to get the money." — Young Dolph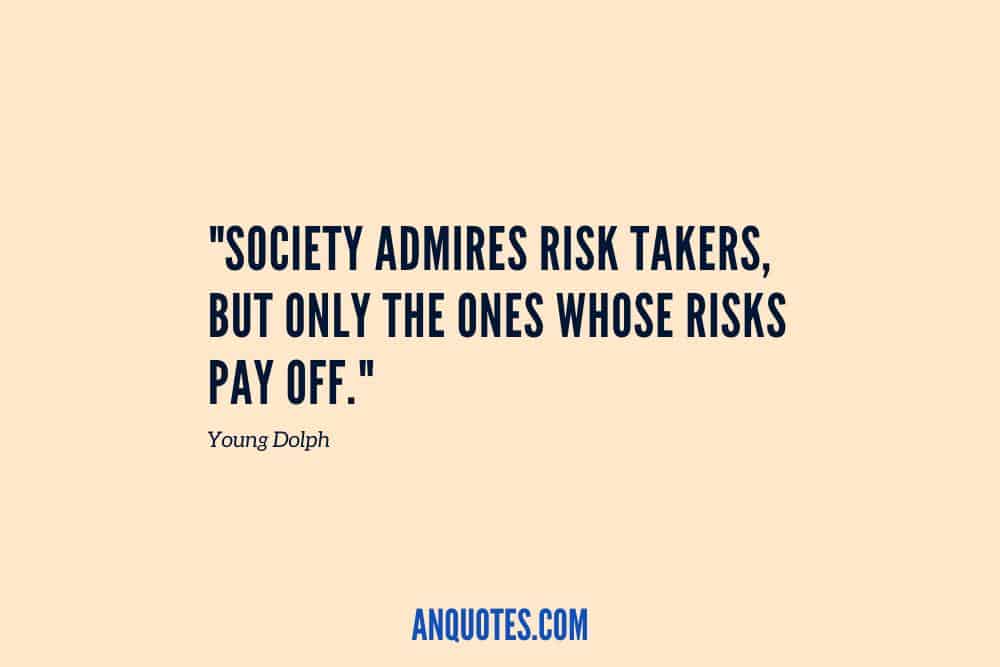 18. "Society admires risk takers, but only the ones whose risks pay off." — Young Dolph
19. "What I want people to take away from my music, man is just how to take care of responsibilities, how to live life and enjoy life. You only get one shot at life, one life to live—make the most out of it. Put as many smiles as you can on people's faces. Help as many people as you can. Get you some paper. Live life, you and your folks." — Young Dolph
20. You know, working with different artists, some people kind of get confused in trying to find their way; I stay true to myself." — Young Dolph
21. "Not a lot of people make it out from where I'm from, but I'm a living example showing you that it's possible. Work hard, play hard." — Young Dolph
22. "I've been working my whole life, but I have never punched the clock." — Young Dolph
23. "It's always easier in retrospect to be confident in the decisions you've made if they actually worked out." — Young Dolph
24. "Have a good team. Let them do what they do, and you do what you do. Have people around you that work and that will want to make your work even harder." — Young Dolph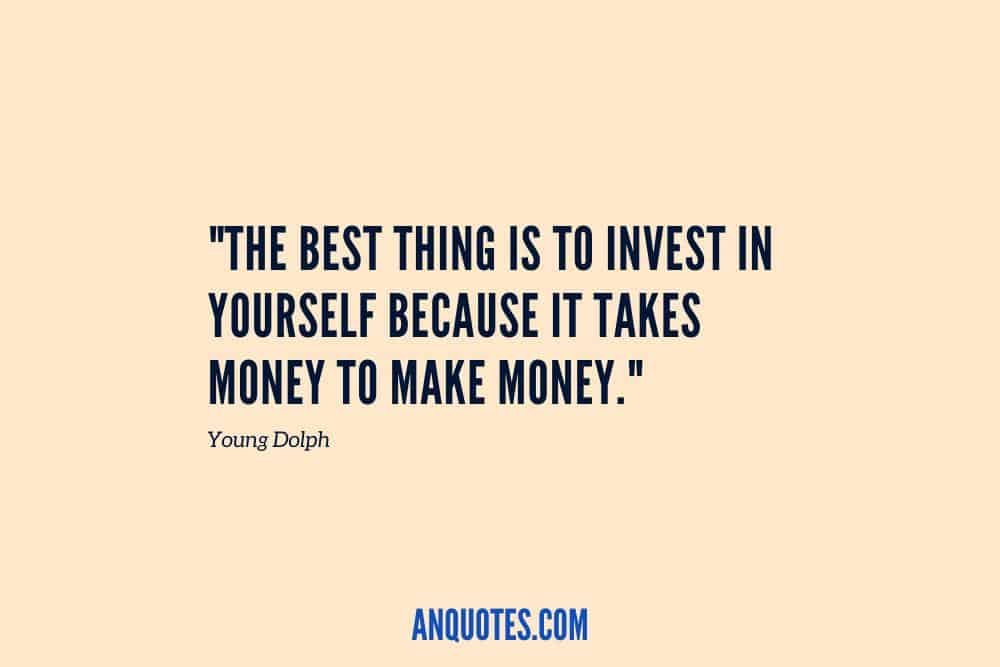 25. "The best thing is to invest in yourself because it takes money to make money." — Young Dolph
26. "I'm embracing the term 'crack baby.' The only other person who would be embracing that term is probably 2Pac." — Young Dolph
27. "I identify sooner with a hard-working person well beneath his tax bracket than a social climber piggybacking on other people's exertion." — Young Dolph
28. "I believe that for those who work for it, opportunities will knock, doors will swing open, fears will be conquered, and risks will pay off." — Young Dolph
29. "Don't try to… go to work and try to go to the other job. And if you are going to do other things on the side, make sure it's like it's only for the money just to support what you really want to do, and you give it your all." — Young Dolph
Young Dolph – Keys to Success (Inspirational Video In Memory Of Young Dolph)
Adolph Robert Thornton Jr. (July 27, 1985 – November 17, 2021), better known by his stage name Young Dolph, was an American rapper. In 2016, he released his debut studio album, King of Memphis, which peaked at number 49 on the Billboard 200 chart.
Summary
Young Dolph was a talented independent artist who inspired many young rappers. He talked about responsibilities in his music and always kept his style original. The news of his demise devastated his fans, who continue to cherish his work.
Related Articles
Link
"File:Young Dolph 2017.jpg" by Slyguy1255 is licensed under CC BY-SA 4.0.
I'm Alice Judy and AnQuotes is a fun hobby for me. We know that everyone loves a great quote and our mission here is simple – to be the best and most interesting quote site in the world! If you have quotes you would like us to cover, please contact us.